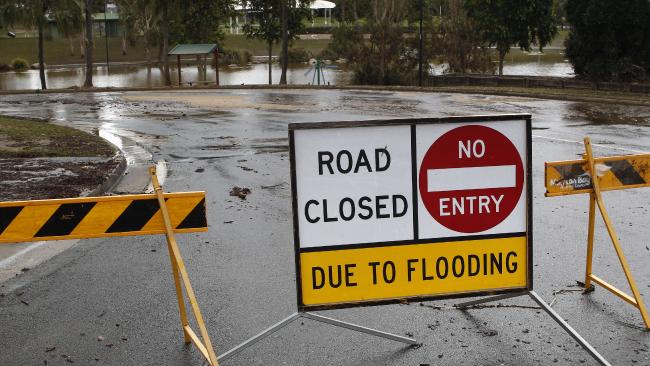 2nd East coast low: Bureau of Meteorology on watch for second damaging weather system in Queensland, NSW
Emergency services have been put on standby as southeast Queensland braces for another weekend of wet weather.
Heavy falls of up to 50mm are expected to be dumped across the region, while predicted localised falls of more than 100mm have sparked concerns of flash flooding.
The worst of the weather is expected to hit the southeast on Sunday and could possibly bring thunderstorms and strong winds.
At 11 am Sunday The BoM advises the east coast low will miss Queensland completely and cross the coast in southern New South Wales. The heaviest of the falls are still expected to fall on Moreton Bay Region and South East Queensland during the evening hours then taper off.
Wind Warnings for Sunday 19 June
Strong Wind Warning for the following areas:
Sunshine Coast Waters and Gold Coast Waters.
Seqwater's Flood Operations Centre is on Alert due to predicted heavy rainfall in the catchments. Gate releases are possible from Wivenhoe, Somerset and North Pine Dam. 5 pm Saturday SEQwater advises Ops centre is on alert due to predicted heavy rainfall in catchments Gate releases possible from Wivenhoe, Somerset and North Pine Dams Updates to follow.
QFES regional manager Steve Waddell yesterday urged residents to prepare their homes for the potentially damaging conditions.
"People should prepare for wet weather ... making sure your home is in good order, gutters are clear, roof is in good condition," Mr Waddell said.
"People need to have BBQ furniture and loose items in their yards brought inside in preparation for high winds to stop them becoming projectiles."
Drivers have also been warned to stay clear of flooded roads and to have an alternative plan — even if that means not driving at all.
Key points:
Rainfall expected over parts of Queensland, NSW this weekend
Rains of up to 100mm could strike swathes of southeast Queensland
Follows devastating east coast low earlier this month
Drivers are also warned to stay off the roads as the rains approach.
Gusty storms are expected throughout the weekend
It follows this month's devastating east coast low that wreaked havoc from Queensland to Tasmania.
The Bureau's National Operations Centre director Dr Andrew Tupper said the situation would be clearer in the coming days.
"There is still uncertainty about the timing and extent of the impacts, but we have increasing confidence in a widespread rainfall event developing over southern and eastern Queensland and inland-northern New South Wales," Dr Tupper said.
"Low pressure systems like this low can produce very heavy rainfall, damaging winds and dangerous surf conditions and residents should keep an eye on local forecasts and warnings as the situation evolves."
He said it was not unusual for east coast lows to develop in such quick succession.
"On average, the eastern seaboard sees seven significant east coast lows each year and most occur between June and August," he said.
"These systems are major rain producing events for the east coast of Australia."
He said east coast lows were caused by a range of factors and there was still uncertainty in forecasting them days beforehand.
"At this stage, people from the Queensland coast to Tasmania should be aware of the potential for more severe weather this weekend and into next week and stay up to date with bureau forecasts," he said.
"If you are in an area expecting severe weather, please follow advice from your local emergency authorities."
In a statement, the bureau said the major Australian and international computer weather models it used were in good agreement about the development of the system, but its exact location and intensity would drive the final impact.
It also said its forecasters would work closely with emergency services to help them plan and prepare for potential impacts.
All you need to know to stay safe
Moreton Bays Home of Emergency Information will be on hand to ensure listeners and those living in the area are well informed and kept up to date as events happen.
We encourage everyone to keep our Facebook page open for details as they are released by the bureau.
For Caboolture region flash flooding in low laying areas may be further impacted by high tides predicted.
Saturday High Tides are Sunday  9:22 pm (2.42m)  Monday 9:21 am (1.89m) 10:00 pm (2.45m), Tuesday 10:01 am (1.89m) 10:37 pm (2.46m), Wednesday 10:42 am (1.88m) 11:14 pm (2.46m),
Keep your radio tuned to 101.5 FM, should you be in a place where signal is difficult we have a live stream service so you can listen in via your browser on your computer or mobile.
We also recommend you have your survival kit on the ready and some essential tips for before the storm, during the storm and the clean up after page.
Be prepared and If it's Flooded Forget it
"Parents must supervise their children closely and ensure they stay away from drains, culverts and any flowing water."
Mr Byrne said motorists needed to have a Plan B in place if travelling on the weekend, including finding alternative routes in case roads were flooded.
"Residents need to pay close attention to weather reports and local conditions before getting behind the wheel," he said.
"If the road is flooded, forget what car you drive. No-one can predict floodwater or what is happening underneath, so it is important motorists never enter a roadway covered with water."
"Remember: if it's flooded, forget it. This simple rule will keep you and your loved ones safe."
Residents who cannot clean up their own property and require storm and flood emergency assistance should contact the State Emergency Service (SES) on 132 500. In a life-threatening emergency dial triple-0 (000).
Moreton Bay Region Sand Bagging facilities and emergency numbers

A full list including maps on how to get there is now available here on our website
Short list basic is here:
SES and SANDBAGS
• Beachmere - Rogers Street Sports Ground 
• Bribie Island - 208-224 First Avenue
• Narangba - Oakey Flat Road (between Raynbird Road roundabout and Sovereign Drive roundabout) 
• Caboolture Council Depot - corner of Commercial Drive & Machinery Parade
• Elimbah - Coronation Drive (opposite the church) 
• Woodford Council Depot - Mary Street
• Woodford Memorial Hall (rear car park)
SES for emergencies: 132 500
Loss of electricity supply: 13 62 62
Priority emergency (electrical hazards): 13 19 62
General electricity enquiries: 13 12 53
EMERGENCY (POLICE, FIRE, AMBULANCE): 000
For more information on storm updates and flood safety information, visit: www.energex.com.au/safety/safety-in-an-emergency
Local residents and businesses can register to receive free ALERTS ABOUT SEVERE WEATHER and FLASH FLOODING events via text or voice message and e-mail. Register online at www.moretonbay.qld.gov.au/moretonalert or call council on 3205 0555.
2. Don't drive, ride or walk through flood waters. Despite what you can see on the surface, beneath the surface there may be missing roads, swift currents and deep wash outs. If it's flooded, forget it. It's just not worth your life or that of your loved ones.
Please stay safe and if possible avoid any unnecessary travel on our roads this weekend.
Related Stories:
Source BOM, ABC News & 101.5 FM