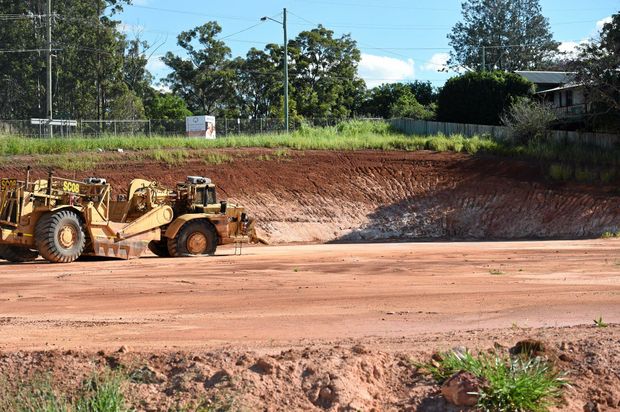 Wamuran's ghost development stalled
Visiting the Wam Central website is like an eerie trip through time.
It boasts that the $30 million Wamuran town centre project with a "new" retail and commercial precinct will "open in mid-2014".
The development was approved by Moreton Bay Regional Council on April 24, 2014 – but to the bewilderment of the entire community, the site still remains an empty patch of dirt.
"Once the Development Application is approved, the timing for the commencement of the development or whether the development is constructed is at the discretion of the developer," a council spokeswoman said.
"Questions relating to the progress of the development should be directed to the developer."
But no one has heard from King Corporation Australia director Stephen King in months.
The site was cut and rolled late last year, but since then skips, portaloos and machinery have slowly been taken away.
Division 12 councillor Adrian Raedel said the last time he heard from Mr King was last November.
"Unfortunately Stephen King doesn't have a high level of consultation," he said.
"He's got the approval so he can build, but the information to the community comes in dribs and drabs and all over the place. No one knows what's happening and I'd say he doesn't even know.
"His proposal has changed multiple times and it's a different answer every time – that's why my community of Wamuran gets so frustrated."
The development was supposed to house a new IGA and many independent businesses including Long Yard Beef Company, which put its name down as interested in a lot.
Member for Glass House Andrew Powell simply laughed down the phone when asked what was going on with the stalled development.
"Your guess is as good as mine," he said.
"We had a lot of conversations about seven years ago getting approvals, including how best to access the site from the highway.
"We turned the sod on the site about six years ago, so it's had a long, torturous path to be where it is.
"The people of Wamuran want it to go ahead, as long as it doesn't come at the expense of existing business."
But Mr King said there was nothing to worry about.
"I've heard some fantastic rumours, none are particularly correct.
"It's all going well, and we'd like to talk in about one month's time," he said.
Source: Caboolture News