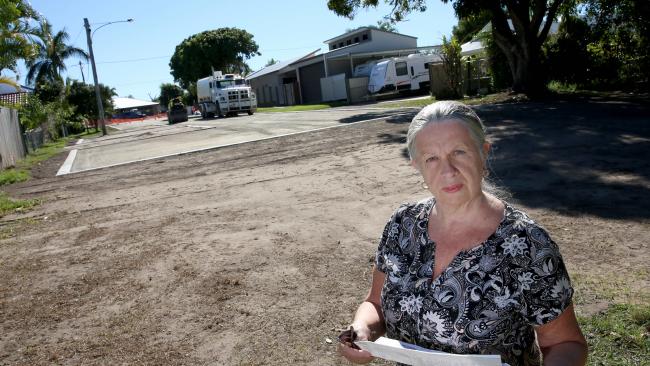 Redcliffe Property access blocked after council turns suburban street into a carpark
A decision to turn a ­suburban street into a carpark has left residents shaking their heads in disbelief.
Up until a few weeks ago, Atkins St, Redcliffe, was a ­gazetted road.
Now, three quarters of the road has been turned into a carpark and the other ­quarter turned into a patch of dirt — leaving residents with no access to driveways or garages.
Houses on Davis St, Garsden St and Moreton Ave, had dual access with many of their garages and driveways in Atkins St.
That was until Moreton Bay Regional Council ­decided to spend $110,000 to upgrade the street.
Councillor James Houghton (Div 5) said the aim of the upgrade was to rectify parking issues caused by people using the street as a carpark when collecting children from Scarborough State School.
"A lot of people were using Atkins St road reserve for parking, which was preventing some of the residents of Davis St from being able to access the garages and driveways at the rear of their homes," he said.
 Cr Houghton said the upgrade would "provide a formal road" and car parking spaces.
But Garsden St resident Pauline Driscoll said she did not understand the design — especially as it now meant one quarter of the road no longer existed.
Mrs Driscoll and at least three other residents no longer had access to entrances at the rear of their properties.
Cr Houghton said Davis St residents were notified of the project.
But there were only three properties on Davis St that backed onto Atkins St. Residents on Garsden and Moreton Ave were not advised of the project. Ms Driscoll said the council should have consulted everyone
Source: Adelaide Advertiser