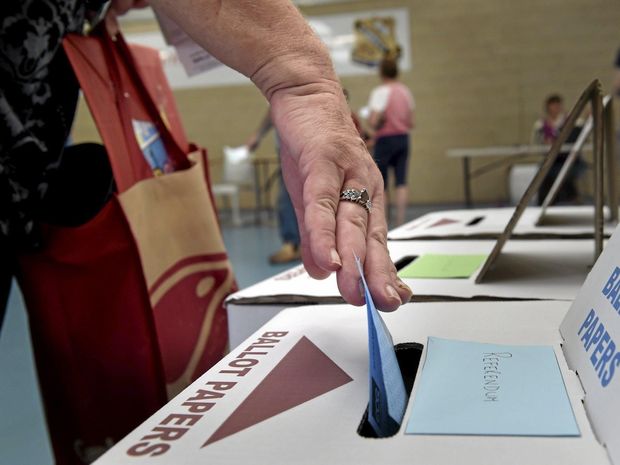 Palaszczuk Government's compulsory preferential voting sparks petition
D0 you like to tick every box on election day or do you 'just vote one' for your preferred party?
If you're a fan of the latter you'll just have to get used to ticking every single box in the next state election - or your vote won't count.
The State Government has been criticised for recently passing legislation that strips Queenslander's of the choice to 'just vote one'. Voters will now have to assign each candidate a preference, even if they don't want to vote for a particular candidate or party, or have their vote rendered invalid.
Member for Glass House Andrew Powell said the changes were akin to telling Queenslanders they can't be trusted with their own vote.
"They've basically turned the way Queenslanders vote on their ear with 18 minutes notice and zero consultation with the people of Queensland," Mr Powell said.
"It's a dirty sneaky trick that is basically rigging the election because their primary vote is stuck around 37 per cent."
"(Premier Annastacia Palaszczuk) said she would consult and to ... completely blindside the state of Queensland was not acceptable," Mr Powell said.
"Which is why we are encouraging people to get on the My Voice Matters website and log their displeasure with it."
Analysis by the Queensland Electoral Commission shows 60 per cent of voters prefer to 'just vote one.'
Member for Morayfield Mark Ryan said the change in voting was nothing to be concerned about.
"This is typical of Andrew Powell – he scaremongers and plays silly political games," Mr Ryan said.
"There is no need for the people of Morayfield or Glass House or Queensland to be concerned. This is how all Australians vote at Federal Elections."
Mr Ryan said the change brought Queensland into line with the rest of Australia, with the exception of NSW.
"This is a sensible change which creates certainty and consistency," Mr Ryan said.
Both the Premier and the Attorney General were unavailable for interview, instead providing comment through their spokespeople.
Spokesperson for the Premier said the change wasn't purely a Labor decision.
"The entire parliament, including the LNP, voted to support the amended Bill as moved by the Shadow Attorney-General, as the HANSARD record clearly shows," the spokesperson said.
"Looking at the last State elections since the first 'just vote one' election in 2001, more than one million voters have exhausted (not been counted in determining the final result).
"Those voters did not have their full say in selecting their local representative."
A representative for Attorney General Yvette D'arth said the move was to reduce confusion for voters.
"The confusion caused by variations in voting systems in Queensland is most evident when looking at Federal elections," the spokesperson said.
"There is clear evidence that having different voting systems for different levels of government leads to higher informal voting."
Source: Caboolture News