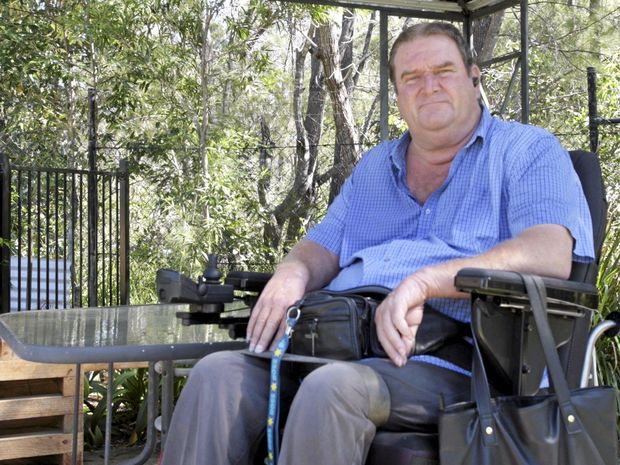 Matt McCracken Says Accessible housing needed for the disabled
Matt McCracken knows all too well that finding affordable, accessible housing is one of the biggest challenges facing people with disability.
It cost Mr McCracken $23,000 to make his bathroom at home fully accessible – something that he claims can be done for just $900 for the entire house if it's done from the planning phase of construction.
Now the Caboolture Disability Support Network founder is calling for the government to implement universal housing design into every new house, so they are more inclusive for special needs people.
"Last census in 2011 there were 17,000 people living in Moreton Bay with a disability and 9000 just in the Caboolture district," Mr McCracken said.
"But it's not just about disabled people. It's about elderly people staying at home for longer, mums with prams, people who've had strokes and lost ability – all these things matter.
"If we don't voice our opinion we won't be heard."
It coincides with the Queensland Government's Caboolture consultation for a new 10-year state housing strategy this Friday.
The consultation will provide the community with a chance to express their concerns and give input as to what they'd like to see in the plan.
State MP for Morayfield Mark Ryan said the government couldn't put a price tag on universal housing design, but assured they were trying to give people with disability more housing options.
"People with a disability are 36% more likely to experience housing stress compared to the general population, so it is an area of policy that needs attention.
"Universal housing design is an excellent concept that has tangible benefits for people living with disability and their carers.
"This is exactly the kind of inclusive thinking the Government wants to hear about as part of consultation on the Housing Strategy."
Almost one in five Queenslanders have a disability and in the Moreton Bay region roughly 4.8% of people are in need of assistance with a profound or severe disability.
Between 2010-11 and 2014-15, a total of $57.16 million was invested on government owned social housing dwellings to carry out disability modifications – which includes things like hand rails, ramps and accessible bathrooms.
Registrations have closed for Friday's consultation at 61-65 King Street at 10:30am. Call 3252 8566 for more info.
Source: Caboolture News