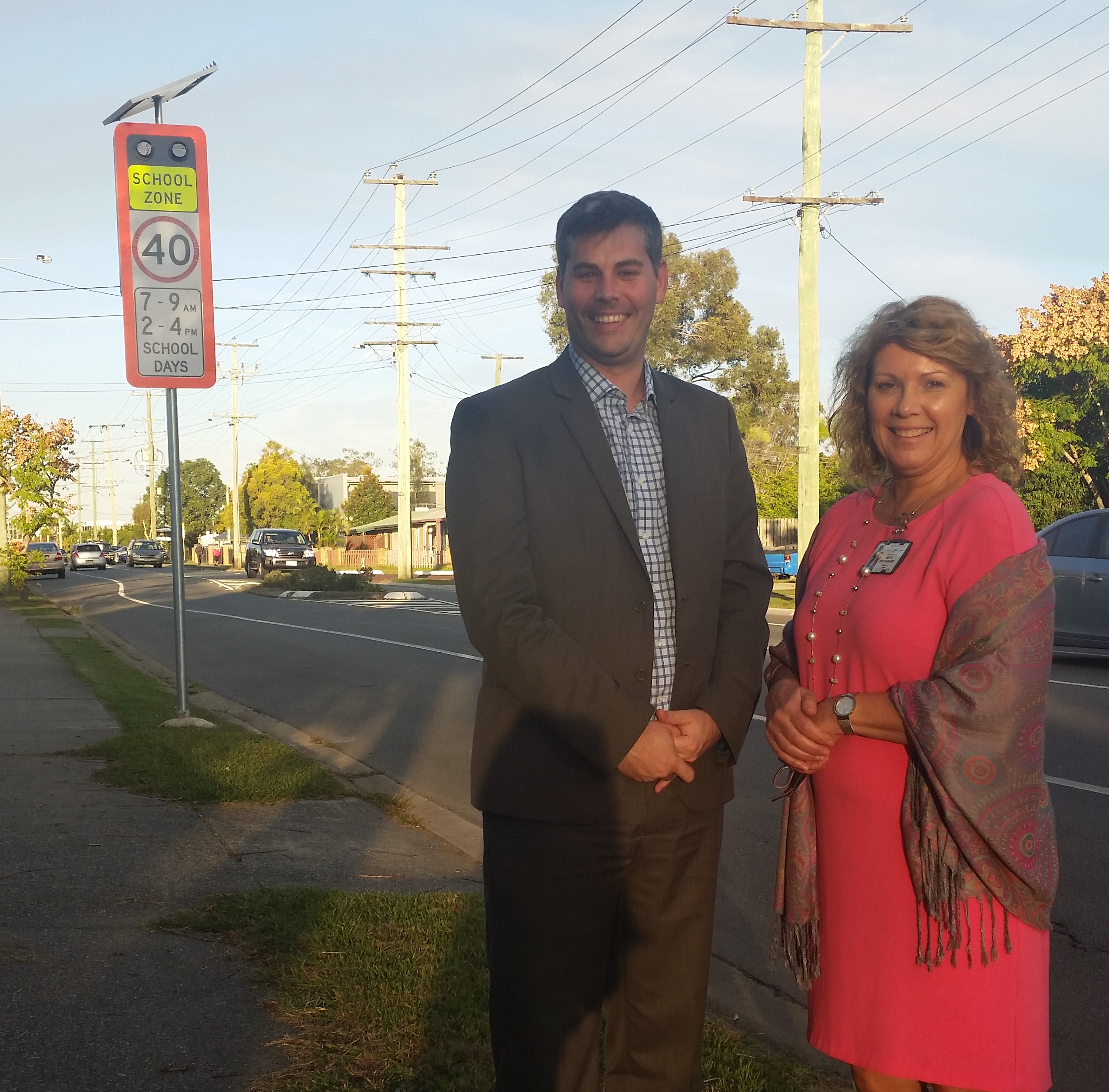 Mark Ryan Announces Flashing school zone signs for Caboolture Special School
Students from Caboolture Special School are set to benefit from the Palaszczuk Government's flashing school zone signs program.
Main Roads and Road Safety Minister Mark Bailey said signs were installed at the school zone on Torrens Road at Morayfield last week.
"The Palaszczuk Government is installing an extra 300 flashing signs over three years to enhance road safety for students," Mr Bailey said
"We are committed to ensuring the safety of students travelling to and from school with $12 million allocated in the 2015-2016 State Budget to boost safety for school students in Queensland.
"I would like to thank the Member for Morayfield Mark Ryan for his strong advocacy in accelerating the installation of the signs."
Member for Morayfield Mark Ryan welcomed the new signs and said it was great news for the Caboolture Special School community and surrounds.
"Not only does the flashing school zone sign improve the visibility of the school zone, but it also alerts and reminds drivers they are entering a school zone and need to slow down," Mr Ryan said.
"The flashing signs have been a resounding success since the Labor Government introduced them in 2011 –flashing lights have been installed at more than 585 school zones across Queensland.
"Students arriving and leaving school can be preoccupied and unpredictable around roads and cars. That's why we're committed to improve road safety surrounding schools."
Mr Ryan said he had advocated for the signs to be installed before work began to replace the southbound bridge over the Caboolture River.
"The reduction of Morayfield Road down to two lanes at the bridge site during works will mean an increase in traffic along local roads," Mr Ryan said.
"With more cars using Torrens Road, I have been calling for the flashing school zone signs to be installed earlier to improve safety at the school zone.
"I'm pleased we were able to deliver a positive outcome for the safety of our local school kids."
Mr Bailey said Transport and Main Roads undertook a detailed risk analysis to determine the school zones that received the flashing signs.
The process includes consideration of local issues and problem areas raised by schools and communities through their Members of Parliament. Priority is given to school zones with a high level of vehicle and pedestrian traffic, higher speed limits or visibility problems. Crash history is also taken into consideration.