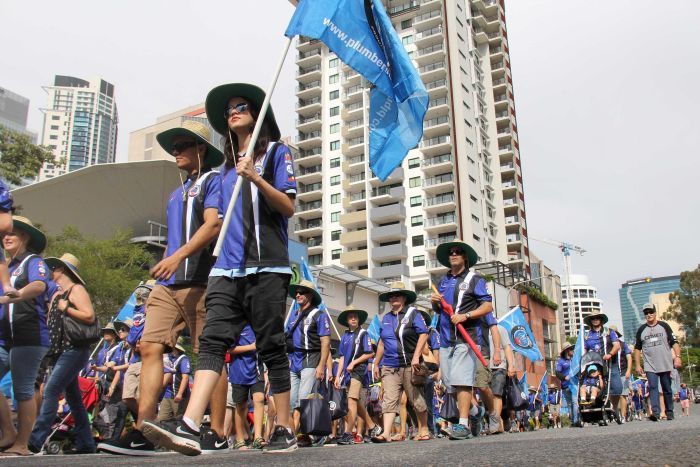 Labour Day long weekend: Business suffering from public holiday fatigue, Chamber of Commerce and Industry says
Businesses across Queensland are frustrated so many public holidays are occurring so close together, the Chamber of Commerce and Industry (CCIQ) says.
Key points:
Businesses "frustrated" about Labour Day long weekend
Proximity of public holidays hurting business, CCIQ says
Qld Labour Day long held in May, Council of Unions says
"Only several weeks ago we had Easter, we had a long weekend last weekend and we had another one this weekend," CCIQ spokesman Nick Behrens said.
"Queensland finds itself closed for business today, when all other states are open for business.
"If you were to ask any business about this long weekend this weekend they would indicate frustration.
Nick Behrens said hospitality and tourism businesses were suffering.
(ABC News)
"Queensland's really struggled with its public holidays and we're yet to get the right balance and the right set of dates in place."
The Labour Day holiday, known as May Day in Queensland, was moved to October by the Newman government to align with other states.
That decision was reversed when the Palaszczuk Government came to power early last year and this is the first time since then the public holiday has fallen in May.
But Mr Behrens said having so many public holidays so close together hurt business.
"Queensland businesses want an even spread of holidays across the year and at the moment we're not getting that," he said.
"Tourism operators do tell us that they experience holiday fatigue. With struggling households, they don't necessarily have the money to be able to go away in Easter and then two long weekends, so the overall money that's spent across the year is less."
'Nobody is talking about moving Easter'
Queensland Council of Unions general secretary Ros McLennan said she was pleased Labour Day had been moved back to its traditional time.
She said the shearers' strike, out of which the labour movement was born, was held in May, 1891.
"Nobody is talking about moving Easter, moving Australia Day," she said.
"By God, Labour Day has been celebrated in May for 125 years and it is going to continue to be celebrated in its rightful place in May.
"Public holidays are about an entire community, not a commercial imperative."
Deputy Premier Jackie Trad said Labor had decided before the last election to revert the public holiday back to May.
"It is back in May and rightfully so," she said.
"I do have sympathy with small business of course, but we made this commitment very, very clear."
Source: ABC News