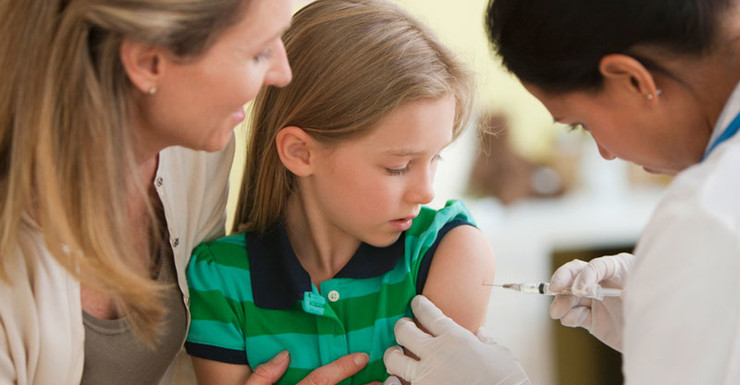 Vaccinators urged to 'think about community'
Health professionals implore Australians to 'think about the bigger picture', following measles diagnosis.
Medical experts have warned that recent cases of the highly contagious measles virus in Australia prove complacency could put the country at risk of a return of the potentially fatal illness.
New South Wales Health issued a warning to the public after four people were confirmed to have been in the community while infectious in the past two weeks.
It was believed they spent time with large groups before they were diagnosed, the health department said.
Anyone who stayed in hostels in Cairns or Magnetic Island in late March may have come into contact with two of the infected individuals, who later travelled on flights from Cairns to Sydney – one on a Virgin Airlines flight departing 5.10am on March 28, the other with Tiger Airlines on March 29.
Meanwhile, two young children on flight AI302 between Delhi and Sydney on March 30 most likely contracted the disease in India.
Click the owl    to find out if you are at risk
University of Wollongong Professor of Public Health Heather Yeatman told The New Daily although we had officially eradicated measles in Australia, the current cases proved we were still susceptible.
"They are not eradicated, they are still in pockets – in Australia and more commonly overseas – and if our vaccination rates drop, we will see more children succumbing to these diseases, as was the case earlier this year in WA with whooping cough," she said.
"There needs to be a combination of education, reassurance and support from medical professionals, as well as some requirement by government to safeguard the community as a whole, rather than allow a few individuals who, for whatever personal reasons, may be putting communities at risk."
'Think about the bigger picture'
Australia was declared officially free of the disease by the World Health Organisation (WHO) in 2014, but a drop in vaccination rates could see that reversed.
"I think it is important we don't become complacent, having seen children dying from measles it is a very severe disease and very infectious," Royal Australian College of General Practitioners spokesperson Dr Penny Burns told The New Daily.
"There are children and adults in our community who can't vaccinate, so from their point of view it is important the people who are able to vaccinate, do vaccinate.
"Think about the bigger picture, and think about the community."
It was a reality recently thrust upon a Queensland mother with a strong anti-vaccination stance, after the birth of her first child.
Cormit Avital refused to be immunised against whooping cough, and suffered the horror of watching her daughter Eva suffer through the highly contagious respiratory infection as a result.
"If I could turn back time I would protect myself," Ms Avital said in a video posted online. "It's been a nightmare".
"Even me, the bulletproof lady who has never been to a doctor, travelled the world and felt healthy got whooping cough."
As well as a refusal to vaccinate, individuals who are only partially immunised – with only one of the two measles shots – could risk infection, particularly if they travelled overseas.
"One of the real risks to us if we don't maintain high vaccination rates and be vigilant on cases, measles is highly infectious and one person can infect up to 12 others, we really do need people to be aware of the virus and that they are protected," National Centre for Immunisation Research and Surveillance deputy director Associate Professor Kristine Macartney told The New Daily.
"Most of our cases tend to be in people who are only partially vaccinated, or unvaccinated … [the vaccine] is very effective, more than 95 per cent effective."
Source: TND