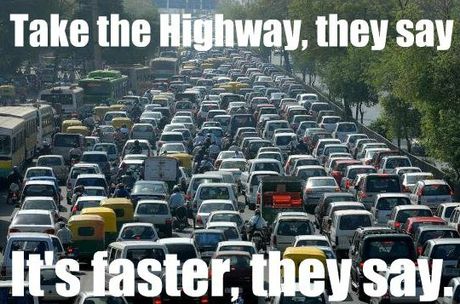 Queensland's worst traffic crawl spots revealed
We all know the traffic crawl to and from Brisbane can be painfully slow - especially after the most minor of bingles.
But new figures released by the RACQ show average traffic speeds in peak times in SEQ can be low as 19kmh during the morning and afternoon commute.
Sunshine Coast commuters going to Brisbane can expect  traffic on the Bruce Hwy from Anzac Ave to Murrumba Downs to be crawling at 27kmh. 
The afternoon speed is only slightly better at 32kmh.
The speed on the Ipswich Mwy from Harcourt Rd to Oxley Rd is also a painful 27kmh.
On the Centenary Hwy - Sumners Rd to Dandenong Rd the morning speed is 30 kmh.
The Centenary Mwy stretch - Dandenong Rd to Seventeen Mile Rocks Rd has a similar speed.
The worst stretch is on the Pacific Motorway in the afternoon.
Heading south from Herschel St to Woolloongabba the average speed is 19 kmh.
The peak motoring body's chief advocate Paul Turner said the data highlighted the full extent of Brisbane's congestion problems.
"During the morning commute the worst road to be stuck on is the Western Freeway south of the Toowong roundabout, with motorists crawling at just 23kmh," Mr Turner said.
"Meanwhile, those travelling home on the Pacific Motorway between Hershel Street and Woolloongabba over the Captain Cook Bridge averaged just 19kmh.
"It's unacceptable for major road corridors in Brisbane to be this congested, forcing drivers to travel so slowly every day."
Mr Turner said there needed to be a strategic plan from all levels of government to provide viable alternatives for people travelling on south east Queensland's key corridors.
"If we don't plan for the future and put in infrastructure that will provide realistic solutions, our congestion problem will become dire."