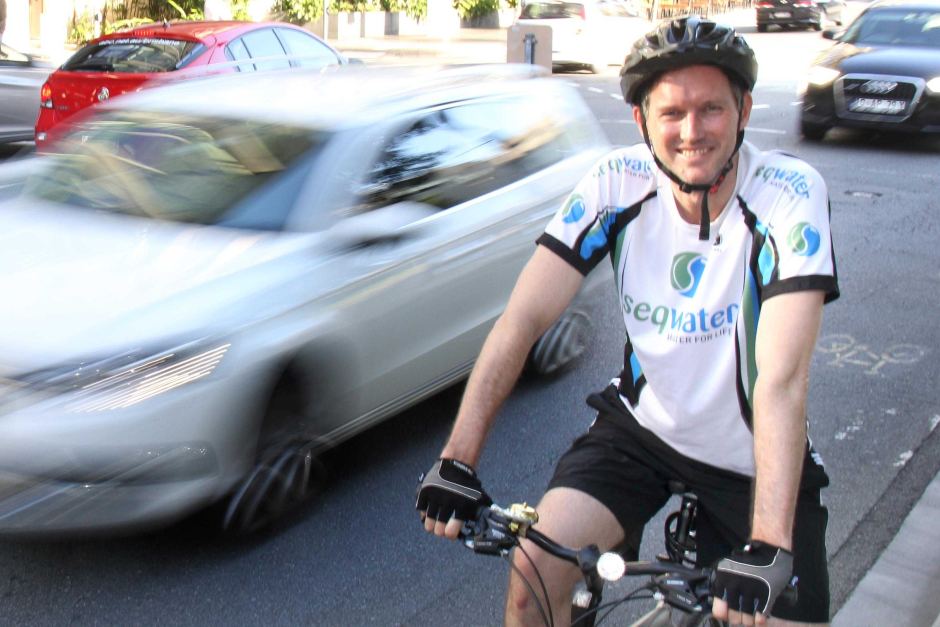 Queensland adopts law ensuring one metre between cars and cyclists following trial
Queensland will keep the law ensuring motorists keep at least one metre between their vehicle and cyclists on the state's roads following a successful two-year trial.
Main Roads Minister Mark Bailey made the announcement on 612 ABC Brisbane this morning.
"I'm very pleased to announce that we're keeping the one-metre minimum distance rule in Queensland after a two-year trial," Mr Bailey said.
"We've found it's increased the awareness of cyclists by motorists considerably.
"It's led to safer outcomes, and I think this is a positive step forward for road safety in Queensland."
The trial was implemented by the former Newman government in April 2014 with the aim of reducing serious and fatal collisions involving cyclists.
Rather than keeping "a safe distance", the law required motorists to keep one metre between themselves and bikes in 60 kilometre per hour zones, and 1.5 metres in areas above 60 kilometres per hour.
Drivers can legally cross unbroken centres lines if safe to do so to pass cyclists.
Offenders face a $330 fine.
QUT review of cycling trial set for release
The Queensland of University of Technology's Centre for Accident Research and Road Safety (CARRS-Q) has reviewed the impact of the law, and will be making public its report later today.
"They did a whole range of things in terms of analysing the trial; they did on-road analysis of cars going past cyclists, they looked at the correspondence coming into Transport and Main Roads from cyclists and drivers, they interviewed Queensland police officer ... so they have quite a comprehensive view of the trial, and it was quite positive," Mr Bailey said.
"There are sometime difficulties around measurement ... and this is a very new area.
Mr Bailey said the CARRS-Q report made a range of recommendations, and showed the awareness was much higher, and there were better safety outcomes.
"It's not absolutely conclusive in every realm, but it's a first attempt at looking at it comprehensively.
"The anecdotal feedback from cyclists I get is that it's made a real difference. They've felt the difference from very early on in the trial.
"It's not perfect, not every driver adheres to the rule, but the difference between before the trial started and when it began is very strong. I think that's very good feedback."
While the one-metre rule was most recently introduced in New South Wales this past month, Victoria, Western Australia, and the Northern Territory are yet to embrace the concept.
Similar laws are already in place in South Australia, the ACT, and Tasmania.
Source: ABC News