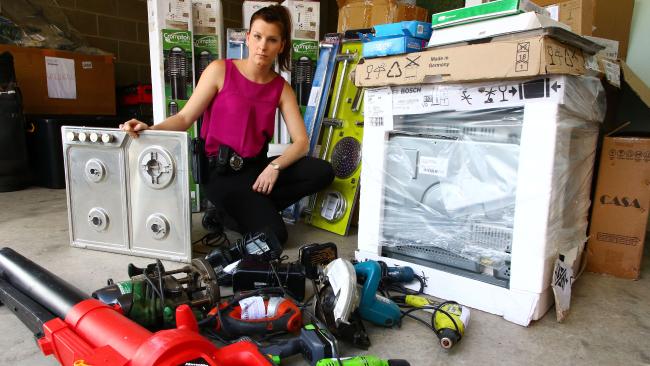 Pine Rivers Police appeal for public help after sharp rise in property theft - especially ovens, toilets, kitchen sinks and airconditioning units from building sites
Pine Rivers Police have appealed for the public to help turn a major tide of property theft — especially from construction sites.
Plain Clothes Constable Gretta Wilson said theft from construction sites had almost tripled since last year.
The rise prompted Operation Gantry to be setup in January with the Pine Rivers Property Crime Team of six, including an intelligence office.
Sites in Warner, Dakabin, Mango Hill, Griffin and North Lakes have been hardest hit with airconditioning units, ovens, toilets and kitchen sinks among the items stolen.
"It's anything which can be detached, taken and wired up again later," Constable Wilson, from the Pine Rivers Property Crime Team, said .
"Offenders have been attending construction sites overnight and at weekends."
Since the operation was launched, nine people have been charged with 34 offences, with more charges expected to follow. But the operation is ongoing.
"On one search warrant alone we located five mixer taps, three kitchen sinks, three ovens, three airconditioning units and brackets, two toilet cisterns and a ceramic basin," Constable Wilson said.
Manager of Building Services for Master Builders Tony Mitchell said the builder often had to cop the cost of thefts.
 "The person in possession of the site, which is usually the builder is responsible if anything goes missing. Theft definitely pushes the costs up," he said.
"It is an example of people abusing and disrespecting builders."
Mr Mitchell said thieves also posed a significant health and safety risk.
"You can do everything in your power to prevent theft but if someone is injured on your site while trying to steal, the question will still be asked of the builder about whether their occupational health and safety was up to scratch," he said.
Constable Wilson said if the public living around construction sites see people attending sites after hours or over a weekend they should advise the police.
"Take down descriptions, vehicles details, such as registrations, make or model or take photographs or video clips, she said"
Some sites have installed infra-red cameras but police are urging others to take simple security measures — install CCTV footage, alarms, secure sites, monitor use of keys.
Tradies are also urged to take property and tools home with them at night, weekends and during holiday periods.
Source: Quest News