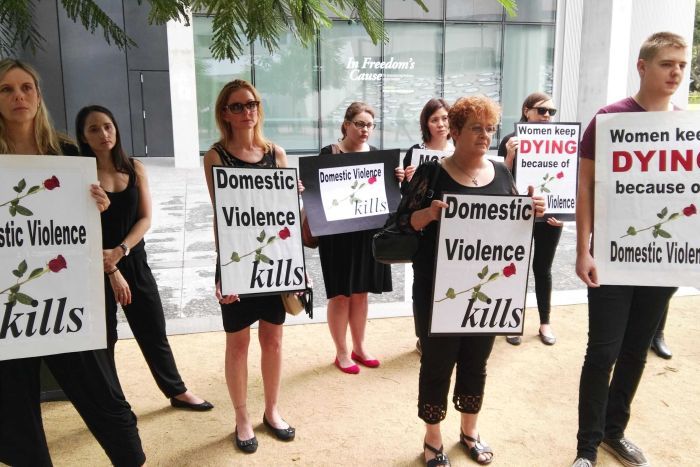 Fatal domestic violence cases across Queensland spark calls for more community action
A campaigner for the prevention of domestic violence whose sister-in-law was killed by her partner wants more community action to help combat the growing problem.
Tim Class-Auliff's call was made to a rally of 60 people gathered outside Brisbane Magistrates Court this morning.
It comes amid a spate of deaths in the past month — seven Queensland women have been killed in alleged domestic violence incidents since the beginning of March.
They include incidents in Cairns, Brisbane, Redcliffe, Ipswich, Winton and Cape York.
Mr Class-Auliff said it was community action that was needed most, especially from men.
"It's one of those things where guys sort of go 'it's a woman's problem', but the truth is it's a man's problem, men are the ones who create these situations almost all of the time," he said.
Domestic Violence Death Review Group member Betty Taylor said the latest deaths were shocking.
"We can only imagine the outcry if it was seven people killed outside nightclubs or the analogy I used from shark attacks for instance," she said.
In 2015 Queensland Police attended nearly 80,000 domestic violence related incidents and issued in excess of 19,000 applications for protection orders.
Queensland Acting Deputy Commissioner Paul Stewart said police were being re-trained in how to deal with domestic violence incidents.
"We'll continue to do everything that we can possibly do to reduce and to stop domestic violence within the community," he said.
A Queensland Government Taskforce led by former governor-general Dame Quentin Bryce last year made 140 recommendations to tackle domestic violence.
The Government is responsible for 121 of those.
So far it has implemented 27 and work has commenced on a further 80.
The Federal Government has also committed $100 million to a women's safety package.