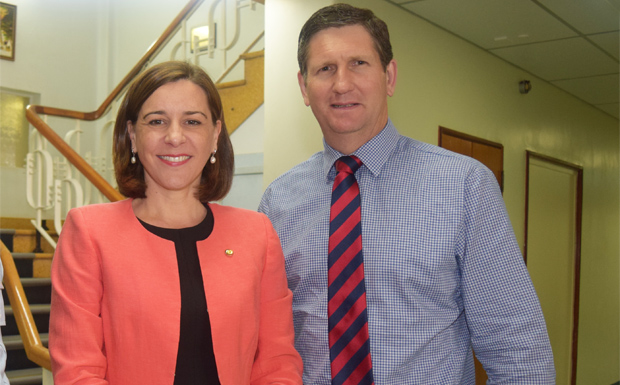 Deb Frecklington sends Queensland government a message on vegetation management
LNP and agriculture groups stand together against Labor's vegetation management reforms
Petition launched for the community to speak out and have say
Palaszczuk Labor Government's aggressive reforms set to cripple agriculture in the Nanango Electorate
The whole community is urge to join with rural industry groups and local MP Deb Frecklington in the fight against Labor's proposed anti-agriculture vegetation management reforms.
Ms Frecklington said the petition, in response to the Palaszczuk Labor Government's Vegetation Management (Reinstatement) and Other Legislation Amendment Bill, was an opportunity for all landholders and the wider community to register their protest to Labor's plans.
"The Palaszczuk Labor Government's rollback of the LNPs sensible vegetation management framework will remove property rights, reduce the productivity of the agricultural sector and threaten jobs in our region," he said.
"This petition is an easy yet influential way for the Nanango electorate community to send a message to local MPs that they object to Labor's amendments and explain the negative impact they will have on landholders across the state.
Deb Frecklington said Labor's proposed amendments were more extensive and aggressive than simply overturning the LNP's 2013 changes.
"The former LNP Government's common sense changes to the Vegetation Management Act means our local landholders can save time and money, while sustainably growing their businesses.
"The Palaszczuk Labor Government plans to completely repeal the important High Value Agriculture and High Value Irrigated Agriculture pathways to development, threatening to bring the agriculture sector and future economic growth to a screaming halt," he said.
"Freehold and indigenous freehold landowners will be stripped of their rights to manage regrowth vegetation and restrictions on vegetation management near watercourses will extend even further than ever before.
"Landholders will also be considered guilty until proven innocent with the re-instatement of the reversal of the onus of proof and 'mistake of fact' will no longer be considered a defence for alleged offences involving vegetation management activities."
AgForce Queensland General President Grant Maudlsey had agreed to be the principal petitioner and other rural industry groups had worked with the LNP and AgForce to develop the petition.
Key facts: