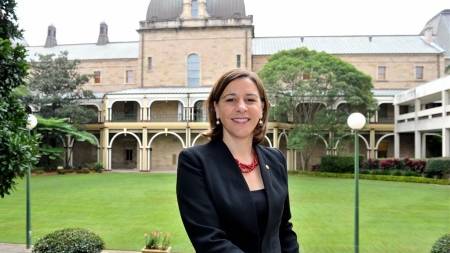 Deb Frecklington advises Royalties restored for our region under LNP
LNP Government to restore $495 million Royalties for Regions program
Royalties for Regions was replaced with a smaller, shorter and narrower program by Palaszczuk Labor Government
Labor is slashing $3.6 billion in capital purchases, with regional QLD feeling the brunt
LNP Government will restore jobs and confidence to rural and regional QLD
The Nanango Electorate would benefit from a reinstated and enhanced Royalties for Regions program under an LNP Government, Opposition Leader Lawrence Springborg and Member for Nanango, Deb Frecklington have announced.
Mr Springborg said the Palaszczuk Labor Government had replaced the LNP's $495 million Royalties for Regions initiative with a smaller, shorter and narrower program - more than halving investment in critical infrastructure projects and highlighting a lack of commitment to regional development.
He said Premier Annastacia Palaszczuk had held Queensland back by cutting infrastructure spending across Queensland since being elected more than a year ago.
"Over the next four years, capital purchases have been slashed by $3.6 billion, with regional communities particularly feeling the brunt of the cutbacks," he said. 
"This is typical of Labor governments that have long-denied regional Queensland the infrastructure investment it desperately needed to keep up with growth.
"That's why in 2012 the LNP took action and announced the flagship $495 million Royalties for Regions program."
"By restoring the Royalties for Regions program the LNP will help unlock the economic potential of regional Queensland to improve our communities and create more jobs."
Mrs Frecklington said the LNP would enhance and expand the Royalties for Regions initiative to ensure the entire Nanango Electorate can once again share in the benefits of the wealth regional Queensland creates.
"Our upgraded Royalties for Regions fund will focus delivering more investment in our regions, creating economic growth and job," she said.
"Reinstating Royalties for Regions will really help our local communities meet critical infrastructure needs going forward.
"The LNP's original Royalties for Regions enabled us to fund and deliver critical infrastructure including:
$10million for overtaking lanes on the D'Aguilar Highway and Brisbane Valley Highway
$10million for Kingaroy's Wastewater Treatment Plant
$1.65 million for replacement of several wooden bridges in the Somerset
$2 million for the South Burnett Rail Trail
$1.5 million for the new intersection on Kingaroy/Barkers Creek Road
"Only the LNP is committed to and regional Queensland and will deliver a fair and flexible Royalties for Regions."
Fast Facts:
Between 2012 and 2015 Royalties for Regions invested in 147 regional community infrastructure, road and flood mitigation projects with a combined value of more than $790 million.   
Specific guidelines for the reinstated Royalties for Regions will be further developed in consultation with the Department of State Development.
All projects will need to demonstrate community support and benefits, ongoing viability, value for money and improvements to community infrastructure.
Applications from local governments are encouraged, but proposals will also be accepted by community leaders and stakeholder groups.