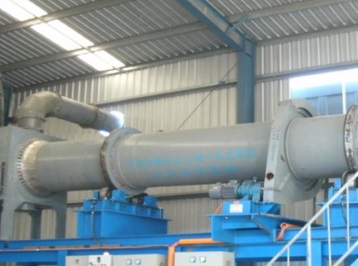 Clontarf LWP Technologies Ltd provides pilot plant update
LWP Technologies Ltd (ASX:LWP) has provided an update regarding the progress at the Pilot Plant, the submission to Moreton Bay Council, and the dispute with its neighbour at Robson Street, Clontarf.
LWP said that progress at the plant has seen the company develop two types of ceramic proppants.
The second is an intermediate strength and high conductivity ceramic proppant to compete with imported, mined frac sand on price and improved well yield and has now been sent for external expert testing.
As scale-up trials have now been successfully completed, LWP intends in the near future to place the plant on care and maintenance until such time as further trials need to be undertaken. This will result in considerable cost savings.
Any future operations at the plant will be for the demonstration its technology to potential licensees in an operational plant and to carry out testing of new mix designs for prospective licensee's/JV partners where testing in an operational plant is deemed necessary.
Planning approval
LWP said as previously announced to ASX on 16 March 2016, LWP received a letter from Moreton Bay Council dated 8 February 2016, asking LWP to provide a submission within 14 days on why LWP had not sought planning approval for its pilot plant.
LWP had advised council and its legal advisors by way of written submission and subsequent meetings that is LWP's and its expert advisor's view that LWP's pilot plant is operating as a Medium Density business in a General Industrial area within Moreton Bay Council.
Under Moreton Bay by-laws, Medium Density businesses are self-assessable and therefore LWP was not required to apply for planning approval.
This position was submitted to council and LWP has received no response to date, and plant operations continue as normal.
Both the Environmental Protection and Health Authority and Workplace Health & Safety also visited and inspected LWP's pilot plant in response to complaints they received regarding the operation of LWP's plant.
LWP has since received clearances from both of these organisations.
LWP remains firmly of the view that its pilot plant operates within the law and is environmentally sound.

Neighbour
LWP said as announced to ASX on 22 February, the neighbour sought an injunction in the Supreme Court seeking to halt LWP from operating its plant.
"The Supreme Court refused the neighbours application, and we are still awaiting the Courts decision on costs in relationship to the injunction.
"The neighbour has also lodged a claim for damages in the Supreme Court. LWP brought a security for costs application to ensure that if that matter did go to trial, the neighbour will have the capacity to meet LWP's legal costs, if the court finds in LWP's favour.
"This application was set down to be heard on 22nd April, however our neighbour did not have a barrister present and therefore the Court felt it would be procedurally unfair to proceed and adjourned the hearing until the 11th May 2016.
"The costs of the hearing on 22nd April were found in LWP's favour and the neighbour has been given 14 days to pay LWP its costs."
Source: Proactive Investors dot com dot au