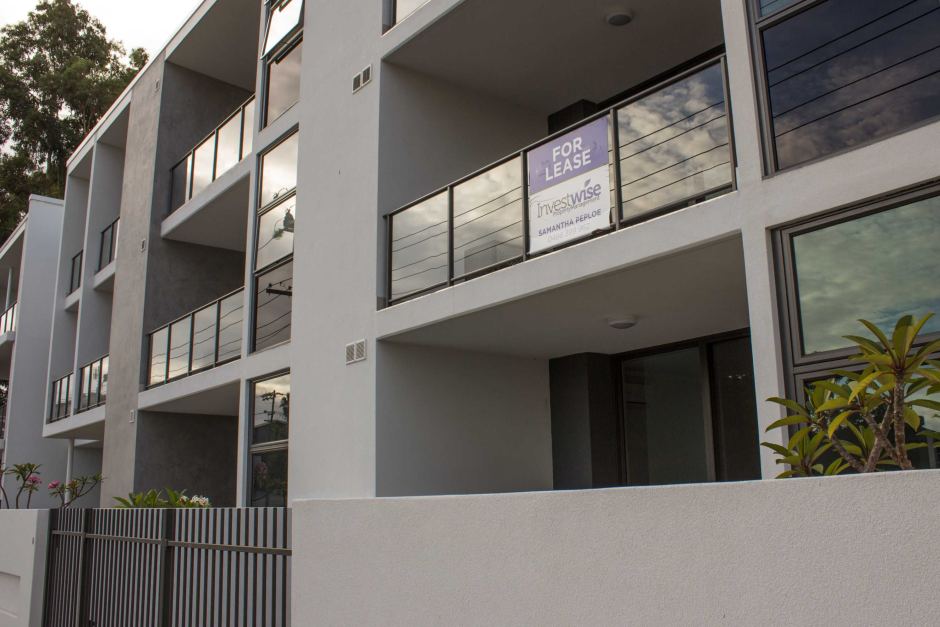 Brisbane unit prices fall for seventh consecutive quarter
The price of a unit in Brisbane is at its cheapest in nearly two years with the median price slumping again for the seventh consecutive quarter.
The latest Domain Group quarterly house price report showed the median price of Brisbane units had fallen to $367,058.
The continued fall means that of the capital cities, only Adelaide and Hobart were cheaper and Brisbane remains the most affordable capital city for units on the east coast.
Is an oversupply playing a part in unit prices falling? Photo: supplied
Domain Group chief economist Andrew Wilson said the downward trend would likely continue into the foreseeable future.
"The building boom is, of course, a significant factor as we are seeing a record number of apartments rise in the market," Dr Wilson said.
"Most of the construction is still to come, and that will put pressure on demand, and on prices."
The fall has been marginal and consistent with a recorded 6 per cent drop over the seven quarters.
"This means it is a well-established trend with an almost 1 per cent fall each quarter," Dr Wilson said.
One reason for the decline in unit prices could be a change in product.
"It could be that smaller, one-bedroom apartments are being built at more affordable prices, which could be one reason for the lower medians," he said.
This Fortitude Valley apartment 1017/128 Brookes Street is just above the median price at $370,000. Photo: Supplied
However, a recent rise in apartment rental prices dispelled signs of an oversupply.
"We have seen rents rise, which indicate that we are not seeing the effects of an oversupply. It is good news for first home buyers and it is good news for investors who are getting good yields," he said.
Allen Wargent buyers' agent Pete Wargent advises potential buyers to stay away from the developing areas.
"I am certainly wary of areas where there is a lot of construction to come," Mr Wargent said.
"There is a lot of value in unit scarcity, like four and six pack apartments where there is some land value. Some high-rises – almost by definition – don't have the land value and a point of difference about them because they are all the same.
"The stock is certainly not shifting quickly."
Brisbane unit prices by region
| | | | |
| --- | --- | --- | --- |
| Brisbane | $430,000 | -1.1% | -2.3% |
| Ipswich | $270,000 | -9.2% | -4.5% |
| Logan | $246,750 | -1.3% | 0.7% |
| Moreton Bay | $306,000 | -10.6% | -8.1% |
| Redland | $400,000 | 0.6% | 1.3% |
Despite falls across the board for Brisbane units, some areas have experienced price booms over the past six months.
Teneriffe, Chermside and North Lakes all experienced a spike in unit prices.
The median unit price in the inner suburb of Teneriffe rose 25 per cent to $645,000; Chermside rose 14 per cent to $447,500; and North Lakes rose 10 per cent to $369,000.
A Woolstore apartment on 54 Vernon Terrace is currently on the market in booming Teneriffe. Photo: supplied
Ray White New Farm principal Matt Lancashire said Teneriffe was on fire.
"There are lower stock levels there, and they are tightening, so there is only so much in the area," Mr Lancashire said.
"Also there are the Woolstores too, which are one of a kind.
"The area doesn't seem to show any signs of any oversupply."
Unit prices dropped in almost all areas of Brisbane over the quarter, with Moreton Bay plummeting by 10.6 per cent and Ipswich by 9.2 per cent. Brisbane and Logan had more modest falls of 1.1 per cent and 1.3 per cent. Redland was the only area to show price growth, which saw the unit median rise to $400,000.
At $349,000 5/212 Cavendish Road, Coorparoo sits just below the median unit price. Photo: Supplied
Domain's report also showed median house prices had slightly fallen over the same quarter to $512,809.
On the Gold Coast median unit prices grew 1 per cent to $380,000 over the march quarter. The biggest area of growth was Gold Coast central, with medians up 2.3 per cent to $394,000.
Unit medians on the Sunshine Coast were more expensive than both the Gold Coast and Brisbane at $385,000, despite a fall over the quarter of 1 per cent. However, the region experienced a year-on-year growth of 4.1 per cent.
Source: Domain dot com dot au