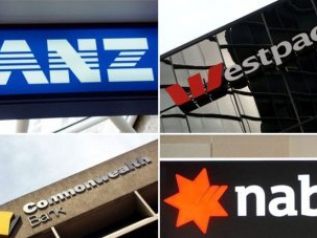 ANZ, NAB, Westpac, Commonwealth rule out passing ASIC levy increase on to customers
All of Australia's major banks have now ruled out passing on to customers the increased cost of a levy paid to the Australian Securities and Investments Commission (ASIC).
ANZ has now joined the Commonwealth Bank, National Australia Bank (NAB) and Westpac in ruling out passing on the cost.
Westpac said it "certainly" would not lift interest rates in response to the Federal Government's announcement the levy banks already pay to the corporate regulator will rise by $121 million.
"We certainly have no plans to increase rates based on [the] announcement," a Westpac spokesman said.
Banks and financial institutions will also be responsible for fully funding their own regulatory body in coming years.
Prime Minister Malcolm Turnbull said he and Treasurer Scott Morrison met with bank leaders this morning, where they sought confirmation.
Mr Turnbull said the banks confirmed their "strong support" for the changes to ASIC outlined yesterday.
"They have confirmed they will not be passing on costs," he said.
"They will have to bear to support the extra investment in ASIC, they won't pass them on to the public."
Mr Morrison also dismissed the notion that the measures weren't going far enough, though stated that further action would be taken in the future.
"This is a continuing journey to ensure we continue to improve things," he said.
But the Federal Opposition, which continues to press for a royal commission into the financial sector, has described the new cash as "hush money" paid by the banks to stave off wider scrutiny.
Morrison 'furious' if banks bill customers for increase
Mr Morrison yesterday sounded a warning about any attempts by the banks to bill their customers for the increase.
"I would be furious," he said.
Opposition Leader Bill Shorten scoffed at Mr Morrison's assurance.
Mr Shorten said the Government could not stop the banks from recouping the levy from consumers.
"Even a crocodile wouldn't swallow that," he told Melbourne radio station 3AW.
Senator Sean Edwards, who also chairs the Senate standing committee on economics, said he "shared" Mr Morrison's sentiment.
"They don't want to be vilified in the public arena," he said.
"But as this decision of the Government flows through over the next hours, days and probably weeks, they will see it for what it is.
"I think this is something that they'll embrace when they see the wisdom of it."
Senator Edwards said he had made his thoughts clear with banks.
"I've been in touch with a number of the banks; they're very keen to respond to what the Government has put forward," he said.
"I would think that shareholders of all of those banks, which are basically mums and dads of Australia, are very keen to ensure that they do the right thing by all Australians."
The Australian Bankers' Association said it would continue to ensure customers were treated fairly.
Source: ABC News