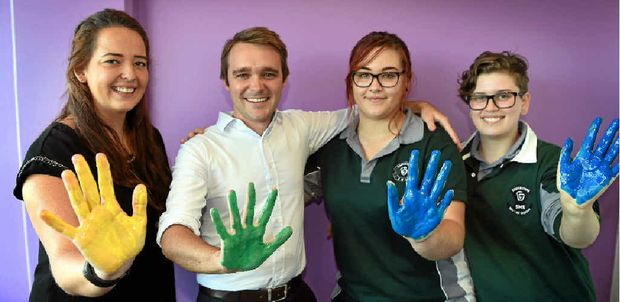 All hands on deck for Caboolture Headspace
After years of lobbying by federal MP for Longman Wyatt Roy, Headspace Caboolture is finally here thanks to a few helping hands.
Five young people aged 14-24 have been given the opportunity to provide advice on the new centre's interior design and layout.
Caboolture State High School students Zac Randle and Ash Gossow were chosen for the role after both having battles with mental illness.
"I had suffered with depression and anxiety, so I was really excited to be able to help other people around mental health, and especially around my age," Zac said.
"We were chosen because we are in that age group that Headspace caters to and we have a perspective of what young people would like to see as opposed to someone who is 30 or 40."
Ash said she would definitely be recommending the centre to her schoolmates if they were in need of support.
"I think the Headspace in Caboolture was definitely long-awaited and very much needed," she said.
"There are things that go on in the community and just general life that just impacts this age group and a lot of people don't know where to turn to.
"I was scrolling through my eHeadspace and I saw Wyatt was petitioning for a Headspace and I thought that was so amazing and cool that I can go there."
In the past the closest Headspace was in Redcliffe, leaving Caboolture's youth to rely on online counselling.
"One of the issues in the past was there wasn't that coordination of care. Headspace has an ability to really drive the coordination of care across all the other services in the region as you've seen these guys," Mr Roy said.
"It's important that it's owned by young people in our community so they feel comfortable here."
Source: Sunshine Coast Daily