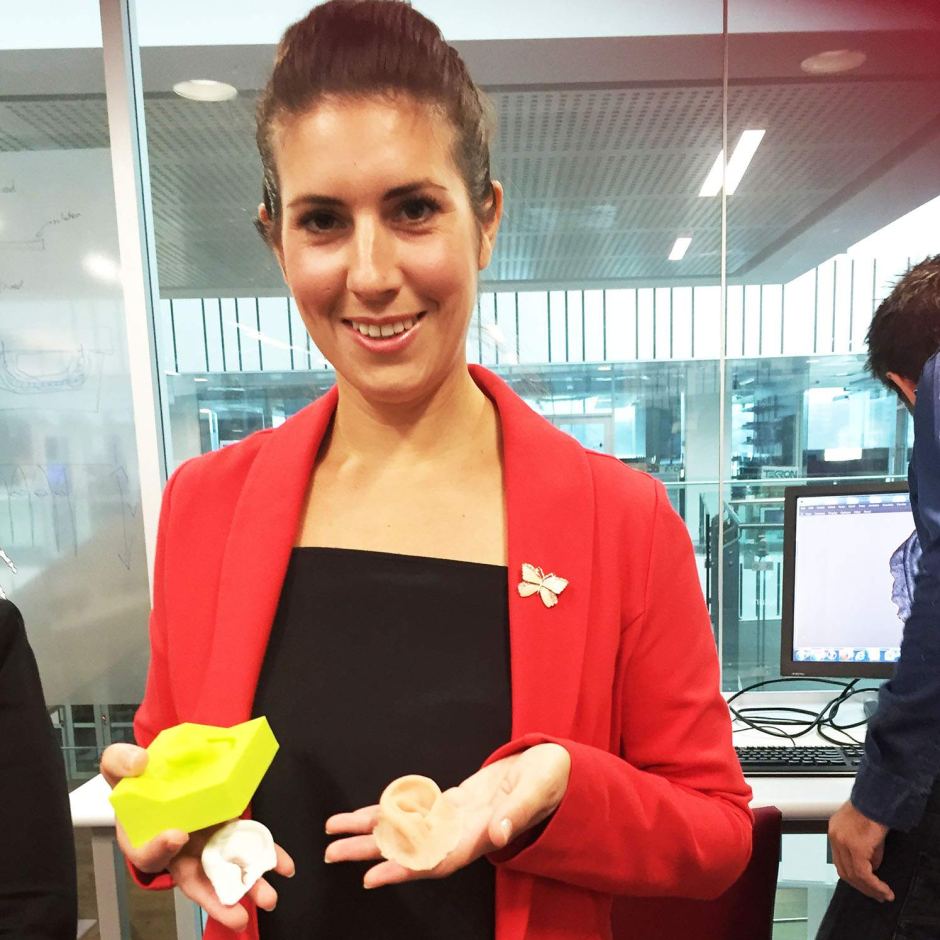 3D-printed ears with hearing aids a cheap and easy fit for child patients developed in Brisbane
Children born with ear deformities could soon receive a prosthetic ear for less than the cost of a pair of glasses, thanks to new technology being developed in Brisbane.
The project is being developed in two stages — the first, a short-term solution to help with the cosmetic issues.
The 3D-printed ear will be made in medical grade silicon and attached magnetically or with surgical glue in a matter of a few hours.
It could be publicly available within two years.
The longer-term project would involve the Queensland University of Technology (QUT) spending three years developing a tissue engineering solution, creating a 3D ear containing cells from the same child that would be grown in a bioreactor and surgically implanted back into the child.
QUT has received $120,000 in funding from the Queensland Government and charity Hear and Say for the programs.
Associate Professor Mia Woodruff, who heads the joint initiative, said the project was very exciting.
"Nobody's ever 3D-printed ear prosthetics before in the world," she said.
"We can then feed that information into a custom-built 3D printer and we can print that ear on the spot," she said.
"I think the ability to 3D-print an ear prosthetic will cost the public less than a pair of glasses."
Chloe Mulligan and Leigh Van with their daughter, Maia.
(ABC News: Leonie Mellor)
Hear and Say director Dimity Dornan said the charity would also provide implantable hearing technology, so the child could hear, as well as look like other children.
"Up until now, nobody's been able to crack the cosmetic effect which is so important to parents," she said.
Parents Chloe Mulligan and Leigh Van said their two-year-old daughter Maia was oblivious to the fact her ear had not developed properly.
But Ms Mulligan said they dreaded the day when she asked why she did not have an ear.
"It's obviously going to be heartbreaking, but the fact we can actually say no it's okay, you will have an ear," she said.
Previously, an expensive trip to the US for a prosthetic ear was the only other option.
"We found this out about four to five weeks ago and I just couldn't believe it," Ms Mulligan said.
"I thought it was light years away in terms of this technology and we only had a couple of options, which were quite poor options in our opinion. So obviously [we are] ecstatic."
Announcing part of the funding today, Queensland Innovation and Science Minister Leeanne Enoch said the Government wanted to see great ideas turned into commercial reality.
"This particular research opens the door to incredible research in the medical field right across the world," she said.
Source: ABC News