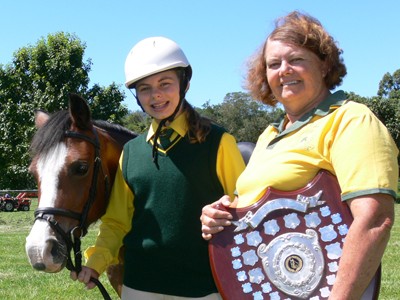 Unbridled support for pony club memorial
The late matriarch of a local pony club has been honoured with a new facility bearing her name opened.
The Sue Jones Memorial Shelter was officially opened at Harold Brown Park at Wights Mountain, home of the Samford Golden Valley Pony Club, on 28 February.
A foundation member of the pony club back in 1971, Sue Jones served the club for almost 45 years in roles such as Vice President and Chief Instructor.
Her colleague Bev Bryer, a Samford Golden Valley Pony Club member for 40 years, said the shelter was one of "several ideas on the table" for the club to pay tribute to Mrs Jones, who passed away in 2013 after battling cancer.
"She was the driving force behind the club and worked on so many committees," Ms Bryer said.
"She gave up a lot of her own dreams of riding to coach riders."
Ms Bryer said Mrs Jones, who lived at Camp Mountain, promoted a respect for equines and also implored club members to "enjoy your horse".
The memorial shelter, featuring a new commemorative plaque and a horse-hitching rail, was funded by Moreton Bay Regional Council with a cost of $37,000.
Moreton Bay Region councillor Bob Millar (Division 11) said the memorial shelter, which he officially opened, was a "wonderful idea" from Ms Bryer to honour a tireless "servant of the pony club and the wider community".
"It's a place of contemplation as people sit there watching equestrian," Cr Millar said.
Source: The Westerner