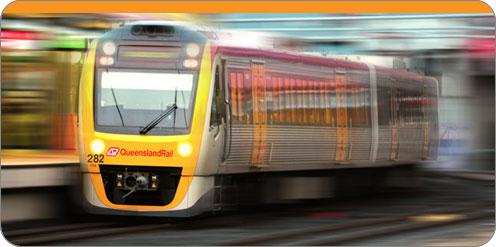 Testing and commissioning of the Moreton Bay Rail Link on track
In mid-2016 the much anticipated Moreton Bay Rail Link will open to customers.
The Moreton Bay Rail Link includes:
14 kilometres of double track rail from Lawnton to Kippa-Ring
22 bridge structures to provide grade separation of road and rail, including over the Bruce Highway
6 new rail stations including bus interchanges and bike storage
2,850 carparks
Stabling (including train crew facilities) for 10 six-car trains in the vicinity of Kippa-Ring Station
3 meter wide concrete shared access path for cyclists and pedestrians along the entire length of the corridor.
When the new line opens, the Rail Link and six new stations between Kallangur and Kippa-Ring will transform the Moreton Bay region by delivering:
More than 650 train services weekly for the Moreton Bay community, including 17 morning and 15 afternoon peak services each weekday
Trains every 6-12 minutes in the morning and afternoon peak periods
Clock-face departures every 30 minutes in off-peak and on weekends
Consistent 55-minute journey from Kippa-Ring to Brisbane Central.
Testing and commissioning program
In preparation for the line's opening in mid-2016, Queensland Rail will undertake comprehensive testing on the line from early March 2016.
As part of this testing phase, Moreton Bay residents will notice trains running on the line as Queensland Rail tests the track and signalling infrastructure for safety and performance.
This testing will be undertaken mostly during the day. Testing may be required intermittently at night and on weekends, however nearby residents will be notified ahead of time.
For more information about the testing and commissioning program, click here (PDF | DOC).
Living near the rail corridor
Queensland Rail has a long and proud history of connecting communities right throughout the state. We pride ourselves on being a good neighbour and we work hard to minimise the impact of our operations on our neighbours wherever possible.
For more information about living near a rail corridor, click here (PDF | DOC).
More information
Queensland Rail wants to hear from the Moreton Bay community and will be holding information drop-in sessions at various locations in the region from 9.00am -11.00am Saturday 9, 16, 23 April. We will provide further details around locations in the coming weeks. We hope you can join us for a cup of tea or coffee to share your feedback and ask any questions you may have around our operations.
We will schedule further drop-in sessions throughout the year.
To register your interest to attend a session, email your name, address and contact details to mbrl@qr.com.au and let us know what you would like to discuss.
For more information, contact the project team by phone 1800 096 821 (select option 2) or email mbrl@qr.com.au
Notices