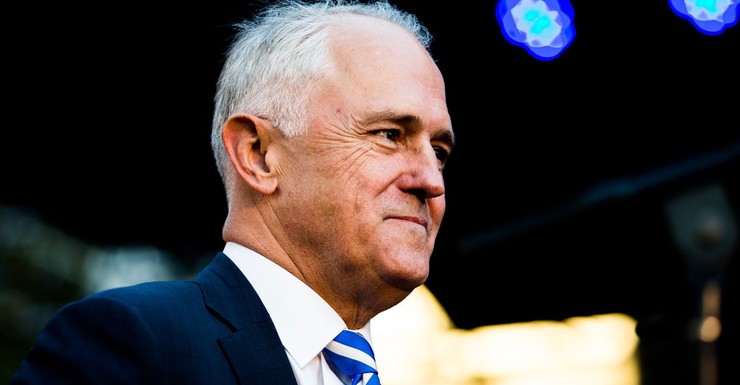 Tax reforms: Turnbull confirms radical proposal to allow states, territories to levy income taxes
Prime Minister Malcolm Turnbull has confirmed a proposal is on the table to allow the states and territories to levy income taxes.
At the moment income tax flows only into the Federal Government's coffers.
The head of Prime Minister and Cabinet Department Martin Parkinson has briefed state and territory officials about the idea of overhauling the system, ahead of Friday's Council of Australian Government's (COAG) meeting.
Mr Turnbull said that under the proposal, the Federal Government would lower the amount of tax it raises, allowing the states and territories to levy their own additional percentage.
"There is a failure at the heart of the federation and this is the failure," Mr Turnbull told reporters in Western Sydney.
"We would withdraw from a certain amount of income tax that would be available to the states and we would agree that that would be the maximum they would levy for a period.
"In future, on the longer term, a state should be free to lower that amount or indeed raise it and then they are accountable to their own voters."
Mr Turnbull said the decision would give the states "real financial autonomy" rather than continued reliance on federal grants.
Those grants are currently used to help fund state and territory health and education systems.
Labor rejects tax proposal
The states and territories have been campaigning against cuts to hospital funding that were included in the 2014 budget, handed down by former prime minister Tony Abbott.
Federal Opposition Leader Bill Shorten said the Government's hospital funding solution was a "bandaid on a bullet wound", and rejected the proposal to share income tax with the states.
"I can guarantee Australians a Labor government will not give income tax powers to state and territory governments," Mr Shorten said.
"Mr Turnbull and his team have been dragged kicking and screaming to put together a bandaid solution for hospitals.
"It is a bandaid for a bullet hole inflicted by Liberal Party cuts."
Despite federal Labor concerns about the impact of the tax changes, ACT Labor Chief Minister Andrew Barr said it was worth considering.
"Income taxing powers would be part of a broader tax mix then for state and territory governments," he told Lateline.
"In the spectrum of taxes that are levied in Australia, they are relatively efficient.
"They certainly pass the test of being able to be levied progressively, so you can certainly tax higher income earners more and have a fairer tax system as a result.
"So they are a better form of tax than some of those blunt measures like the GST for example.
"To the extent that they become part of the state and territory tax mix, I am relaxed about that."
Treasurer Scott Morrison has stressed the Federal Government does not want the overall tax burden to increase.
Mr Turnbull has already spoken about taxation reform to some state leaders, including Western Australia's Premier Colin Barnett.
"So if the Prime Minister can get the states to agree I think it could be quite a significant COAG," Mr Barnett said.
It would be a major change to the way the federation works, potentially creating a patchwork of different tax rates across the nation.
Source: ABC News