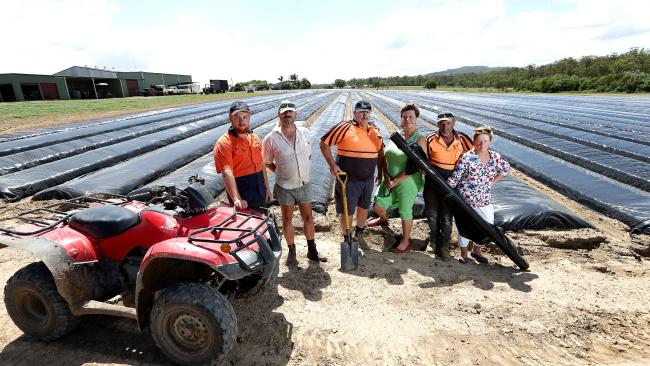 Strawberries could be set for price hike as uncertainty over tax changes scares away backpackers
Enjoy cheap strawberries while they last, as prices could soon go the way of the avocado.
Strawberry growers warn the cost of punnets of the delicious fruit could skyrocket if fallout predictions of an on-again-off-again backpacker tax changes come true.
"There will be no punnets of strawberries for $1 any more — prices will be high, just like avocadoes," Wamuran grower Sue Mazi said.
Backpackers who want to earn money from picking fruit must apply for a ­working-holiday visa.
The Federal Government's 2015-16 Budget changed the visa tax status to nonresident, lifting their tax rate to 32.5 per cent from 19 per cent.
A review was announced last week and the July 1 start date scrapped.
Ms said she believed the uncertainty had put backpackers off coming to Australia to work, making her "very nervous" about the coming season.
"The region needs about 8000 workers a year, and there's no way we can source that amount from just the local population," she said.
"(The fruit) will just be left rotting in the fields, with no one to pick them."
About 40 per cent of Queensland's strawberries are grown in the Moreton Bay region.
Queensland Strawberry Growers' Association ­president Luigi Coco said the inquiry announced last week was a positive move as the proposed tax regimen would hurt growers and lift prices.
"Potentially, it's not only strawberries, it's everything in the supermarket that needs a labour force to pick it," Mr Coco said.
"In the future, though, it would be good if the government did that (inquiry) before they announce anything."
Wamuran grower Charmaine Davey said she would this month put more than a million strawberry plants in the ground, and had a message for the Federal Government: "Just make a bloody decision."
"This is something that has got to be fixed," she said.
"You just can't keep us in limbo. We need something concrete so we know if we are going to get workers."
Caboolture Backpackers owner Tony Lim said losing backpackers meant the entire region would cop a harsh financial blow, leading to job losses and people leaving the area.
"Most people coming here as backpackers make money on the farms but spend most of it in the community," Mr Lim said. "So there is going to be a big effect, especially here in Caboolture, where there is a couple of thousand extra people staying here for six or seven months. They are spending money in the community."
Mr Lim said his dorm-style accommodation, on Lower King St, had 96 beds, each renting for $120 a week.
All beds were full last season, he said, with 70 per cent of backpackers staying for the entire picking period.
"(The backpackers' hostel) can only take 96 people, so there are also lots of people who share their houses with backpackers to make a bit extra," he said. "They would lose this too."
He said he would like to put a submission in to the inquiry.
MAKE YOUR VIEWS KNOWN
Anyone impacted by proposed changes to working-holiday visa tax rates should make their views known to a Federal inquiry, Longman MP Wyatt Roy said.
Mr Roy said changes to the resident status of certain visa holders was mooted in the 2015-16 Budget, but would now be reviewed by the House of Representatives Standing Committee on Tax and Revenue.
"The terms of reference are being drawn up now," he said. "But this changes the timeline (of the tax's implementation). It is very good; it is a very powerful parliamentary review (committee), which is bipartisan, will take submissions and will travel.
"I have spoken to Committee chair (and Member for Forde) Bert van Manen and 'geed' him up about it and he is prepared to listen.
"Engage in the process, make sure your voices are heard, and I will do everything I can to help (you) out with that."
The inquiry, he said, was announced after "passionate discussion" in a partyroom meeting last week. This came after months of lobbying by the nation's agricultural and tourism industry, who believed the changes would deter working holidayers from choosing Australia as a destination and therefore reduce the number of available workers. Similar visa programs are run in New Zealand, South Africa and Canada.
He said he had been "talking at length" with local farmers about the tax changes.
"I am acutely aware of the strawberry season, and that farmers have a number of things impacting them. But I also know they are very resilient and that they will throw everything they have got at it ..."
Mr Roy's parents are strawberry growers.
"I won't be talking to them about it, they should talk to their local member," he said.
Mr Roy can be contacted via wyattroy.com.au or email wyatt.roy.mp@aph. gov.au