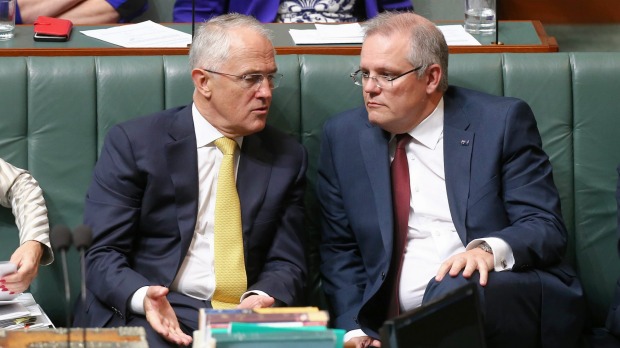 Shorten Explains Turnbull's risky strategy towards setting the agenda
Bill Shorten will use his National Press Club address to question why the Turnbull government is dragging its feet on policy planning.
Prime Minister Malcolm Turnbull and Treasurer Scott Morrison are using the fable of the tortoise and the hare as a template for their budget and re-election strategy.
Labor leader Bill Shorten who, like the hare, burst out of the blocks and has been running all year with big policy announcements, will continue his sprint at the National Press Club.
His lunchtime national televised address on Tuesday will set the scene for the last week of parliament sitting before the budget is presented in May.
The budget is scheduled for May 10 but all the PM and his senior colleagues will confirm is they are "working towards that date". That's code for we really want to bring it forward a week to pave the way for a July 2 double dissolution election.
Mr Shorten will accuse the Prime Minister of wanting to call an early election rather than tackling the problems facing Australia.
Building on two years of consultation by Shadow Minister for Families and Payments, Jenny Macklin, the ALP leader will pledge Labor to full employment, according to an advanced copy of the speech.
"That means every Australian working to their full capacity."
He will defend the goal not as nirvana but as something he has in common with Germany's Angela Merkel and Britain's David Cameron, both conservative politicians.
The Opposition Leader will say he has a plan to restore our budget to a sustainable foundation, so we can invest in jobs, education and health.
He will claim that he has a clear, costed, responsible plan for housing affordability, for superannuation reform and for making multinationals pay their fair share.
In contrast to Labor, the federal government has a blank page.
Shadow Treasurer Chris Bowen has taken to referring to Mr Morrison as 'SloMo'.
Mr Bowen hit back at Mr Morrison's "28 questions Labor must answer on negative gearing" by asking three of his own:
• What date will the budget be held on?
• What is government tax policy?
• What will the Treasurer do with the 'excesses' of negative gearing he has previously identified?
From his pre-budget bunker, Mr Morrison accused Labor of rushing to announcements and of failing to think through the damaging effects on mum and dad investors, house prices and rents.
The implication is that, by contrast, when he and the government finally unveil their plan, they will be unassailable.
Unless we are all being hoodwinked it will also be timid, limited and inadequate to the task.
But that's where the tortoise comes in. The government is banking on Mr Turnbull's credibility and greater popularity than Mr Shorten to eventually overhaul Labor's prescriptions for the voters to hail the plan as worth waiting for and a winner.
In the meantime Mr Turnbull will have to burn up more of his political capital by being relentlessly negative about Labor. The polls suggest this is taking a toll of his standing.
Mr Shorten will sum it up this way: "Every day, we hear nothing from the Treasurer but scaremongering and sloganeering.
"And nothing from the Prime Minister but empty platitudes, endless waffle and the same, tired old union bashing that Tony Abbott loves so much."
There's no doubt as far as the polls are concerned the Turnbull government is favoured to win the general election – and maybe the tortoise-like progress towards an agenda is not a problem.
But it is a gamble.
Source: TND