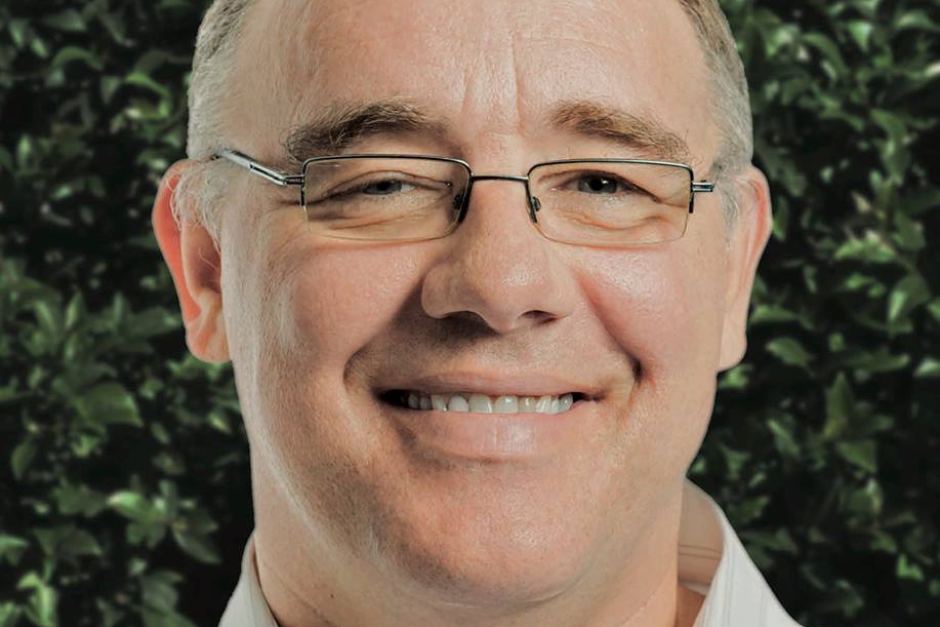 Rob Pyne quits Queensland Labor Party; Palaszczuk Government now even with LNP at 42 seats
Queensland Labor MP Rob Pyne has quit the Palaszczuk Government, loosening its grip on power.
Labor and the Liberal National Party now hold 42 seats each in the 89-seat house.
ALP state secretary Evan Moorhead confirmed the resignation.
"I haven't received a letter but I understand that he has resigned, yes," Mr Moorehead said.
"I am sure we will find out more tomorrow."
Mr Pyne, who could not be reached by the ABC, earlier on Monday tweeted that it was the "hardest day of my political life".
The first-time MP quit the left faction earlier this year.
He spoke out against what he called a lack of reform agenda, including a failure to act on coal seam gas, the powerful mining lobby, official corruption and a women's right to chose an abortion.
Rob Pyne MP

 HARDEST DAY OF MY POLITICAL LIFE TODAY but blessed in attending induction of school leaders at Balaclava School.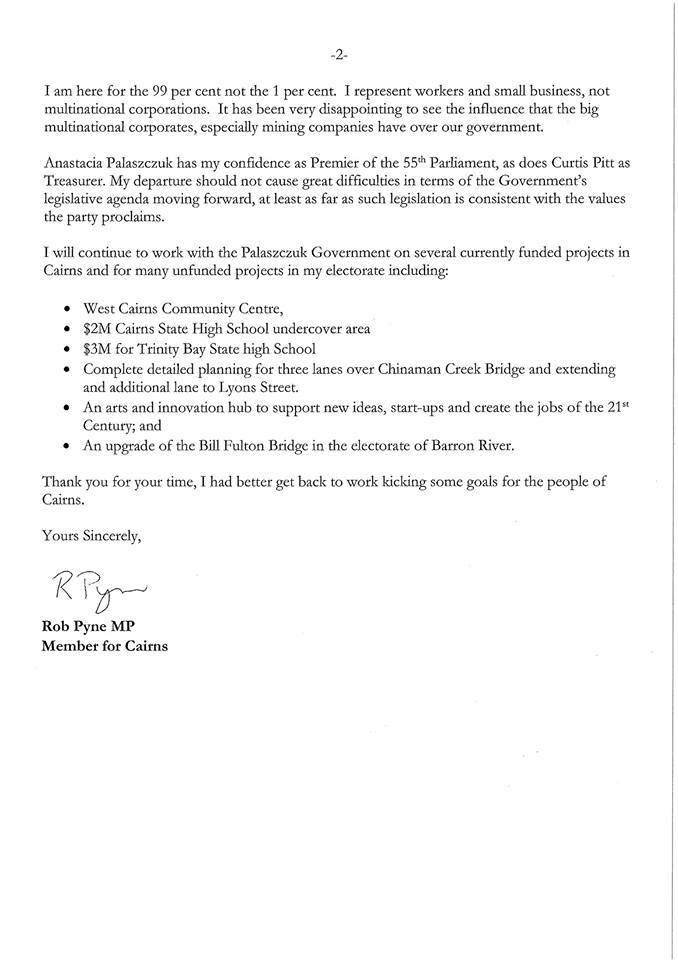 Mr Pyne will join fellow former Labor MP and north Queensland MP Billy Gordon on the crossbench as an independent when Parliament sits again next week, dropping Labor's numbers in the House to 42 MPs, on par with the Opposition.
It also gives the crossbench, where Mr Gordon and the Katter MPs Shane Knuth and Robbie Katter already held significant bargaining power, even more influence.
But Mr Pyne said he had no desire to see the LNP in power in Queensland and would continue to support a Labor government in any confidence motion as he believed it was "for the people of Queensland to decide who led it", not the Parliament.
Related Content
"I do have confidence, I do express my confidence in the Premier and the Treasurer and certainly, I would not anticipate this having a drastic impact on the government's legislative agenda.
"I would hope that the majority of legislation the government will put forward over the remainder of the term will be legislation that I can support. Where that conflicts with my labour [movement] values and the interest of my city and my electorate I know reserve my right to do otherwise."
However, Mr Pyne said he reserved the right to vote against any legislation he believed would not benefit his electorate or north Queensland, or went against his own values.
"I think there are people that know that I haven't been happy," he said.
"I certainly haven't been happy when I have to be vetted in terms of speaking in the Parliament and my comments need to be vetted by a party whip and there may also be times in the future where my vote, in the interests of Cairns and often, issues important to people of regional Queensland may differ from the party.
Mr Pyne told Fairfax Media his decision to leave the party was not one he had made lightly but, after months of deliberation, he believed was the only one he could make to ensure he best served his electorate and was able to "sleep well at night".
It may prove fatal to me politically.

Independent Cairns MP Rob Pyne
"This decision has been a long time coming. I decided that I can't serve two masters, I want to represent the entire Cairns community and I don't feel I can do that if I am being muzzled or controlled by party machinery being run out of Brisbane," he said.
"It has been a frustrating 12 months for me. No one can say I haven't tried to make it work.
"I have tried to make it work. There have been some outcomes, but nevertheless, I think there has been a lack of recognition in the government of the extent to which we are suffering in the regions.
"You know, we are closer to Port Moresby than we are to Brisbane [up] here, and it certainly feels that way when you hear government ministers who are so out of touch with the problems we are facing in areas like Cairns and much of regional Queensland."
Mr Pyne said he understood his decision, which he made official in a letter sent to Queensland's State Secretary Evan Moorhead, would come as a surprise to many. But he said given his experience with the party over the past year he did not believe he could continue as a Labor MP.
Since October, Mr Pyne has pushed for an inquiry into local government in Queensland and how complaints against it are handled. He said there were "other areas where I haven't been happy with the government's performance" which, along with water reform and the Adani coal mine, had led him to his decision to quit.
"One of those is reforms around transparency and accountability," he said.
"We know what has been done in other jurisdictions; we know what has been called for here in Queensland.
"When I see people like Tony Fitzgerald say they are not prepared to support either of the major parties that is a concern for me and when I see practices that are illegal in other states happening in Queensland that is a concern for me as well.
"I think we can lift the bar in terms of transparency and accountability. I am happy to hear the Attorney-General making some noises in that direction, but the Labor Party in Queensland needs to do more. [Such as not accepting donations from property developers]
"There are other things that happen that really need to be looked at, not only in local government but state government as well.
"In the local government level, or with the CCC generally, the fact that less than 2 per cent of complaints are investigated by the CCC, the fact that 98 per cent of complaints are referred back to the perpetrator to investigate should be of concern to us all."
Mr Pyne had considered leaving Labor when he quit the Left faction in January. After talks with Ms Palaszczuk and an accelerated works program announcement in Cairns, Mr Pyne stayed. But he said not enough had changed.
"I was hopeful the party could reform itself, where individual members could be given greater latitude to represent their constituencies and be vocal on behalf of the areas they represent – especially those of us in regional Queensland, who have particularly difficult economic climates we are confronting and in some areas aging infrastructure in need of replacement," he said.
"And you know, I am not prepared to say that everything is fine, that we are getting the job outcomes we need, and I need to argue in the Parliament for this city, where we have double digit unemployment and youth unemployment of over 20 per cent, and we are badly in need of state funding for important infrastructure, like our local schools."
Mr Pyne said he also believed that with his fellow cross-benchers, north Queensland would get a better deal with the government as it negotiated to pass legislation.
"Far north Queensland has been the victim of historic neglect over recent years," he said.
"It doesn't matter whether it has been schools in the Cairns electorate, or hospital in Atherton, we need to work together to get better outcomes for far north Queensland, because I believe this region has been neglected for too long."
After months of deliberations, Mr Pyne said his decision to become an independent sat well with him.
"That feels just fine to me," he said.
"It may prove fatal to me politically, but I tell you what, I'll be putting my hand up for the people of Cairns and be a very powerful advocate for my city, and hopefully achieve a number of more significant wins in terms of service and infrastructure for the remainder of this term and then I can sleep well at night knowing I have done the best to represent the area I was elected to represent.
"I really do believe that not serving two masters and being able to dedicate myself completely to serving the people of Cairns and the people of far north Queensland as well is how I can best serve the remainder of my term in the 55th Parliament."
Mr Pyne is the second Labor MP to move to the crossbench since last year's state election, with Cook MP Billy Gordon resigning from the party before he could be pushed after failing to disclose matters from his past.
His departure leaves Labor in an awkward position, but it is unlikely to send the state back to the polls.
Under convention, Ms Palaszczuk must govern for 18 months unless the LNP can show it has the numbers on the floor of Parliament.
With both Mr Gordon, Mr Pyne and independent Peter Wellington having committed their support to Labor in any confidence motion, the Opposition still falls short of the numbers it would need to lead the hung Parliament.
Parliament resumes next Tuesday.
Source: ABC News, Brisbane Times & Twitter