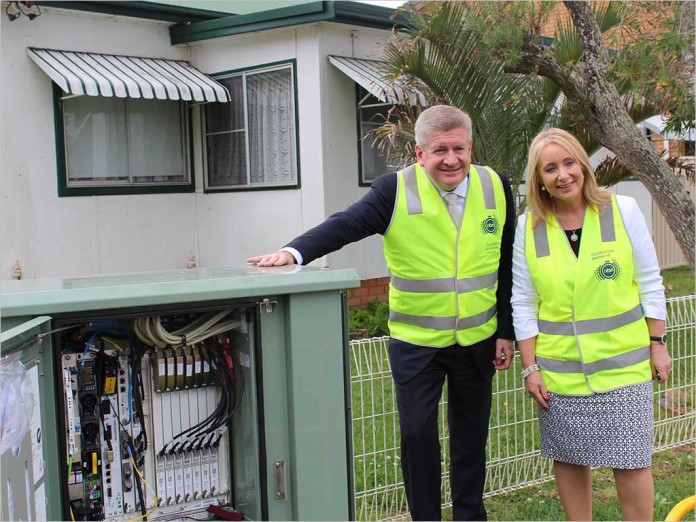 Queensland will be first to get NBN HFC cable, says Fifield
Minister for Communications Mitch Fifield has announced that residents in Queensland will be the first to experience the NBN's "superfast" HFC cable broadband service when the network goes live in June.
Making the announcement with Fifield at Woody Point on 23 March was Member for Petrie, Luke Howarth MP, with the pair explaining that the service would first be launched for customers on the Redcliffe Peninsula.
The announcement follows a successful test of HFC (hybrid fibre-coaxial) in Redcliffe which achieved wholesale network speeds of up to 100Mbps download and 40Mbps upload, at an average speed of 84/33Mbps, according to a statement from the Minister.
The HFC service is expected to reach round 18,000 Redcliffe Peninsula residents by mid-2016.
"The use of HFC to deliver superfast broadband forms part of the Government's multi-technology mix approach to building the network, which uses the most appropriate technology to deliver the NBN sooner and at less cost to taxpayers," Fifield said.
The combination of technologies includes fibre to the node (FTTN), fibre to the premises (FTTP), hybrid fibre coaxial, fixed wireless and satellite.
Previously, HFC was rolled out across Australia to deliver pay TV services, however it is now being used globally as an efficient means for delivering fast Internet access.
"In Australia, the NBN is incorporating elements of the HFC network and upgrading electronics to deliver better broadband to millions of households," said Fifeld.
The NBN is expanding across Queensland with more than 382,000 homes and businesses now able to order an NBN service, and over 152,000 homes and businesses already connected, according to official figures.
Nationally, the network is available to more than 1.8 million premises, with more than 860,000 now having an active NBN service.
The NBN is "on track" to meet the rollout schedule for this year, said the Minister, with the network expected to be completed on time in 2020.
Source: Delimiter dot com dot au