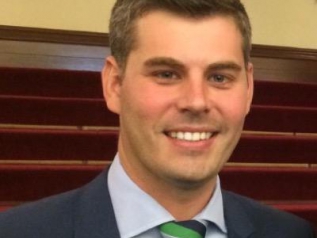 Mark Ryan releases the Palaszczuk Government's vision for SEQ infrastructure released
Local Members for Morayfield and Pumicestone, Mark Ryan and Rick Williams, today welcomed the announcement of Queensland's first State Infrastructure Plan in more than three years, which will drive the economy in South East Queensland and deliver the infrastructure the region needs to grow and generate jobs.
Also announced was the establishment of a new State Infrastructure Fund, with an initial investment of $500 million, including $300 million to fast-track critical transport upgrades across the state to boost capacity and reliability.
Projects allocated funding in South East Queensland include:
Pacific Motorway-Gateway Motorway Merge Upgrade (southbound lanes)
Ipswich Motorway Upgrade, Stage 1 Darra to Rocklea
Kawana and Nicklin Way Sunshine Coast University Hospital intersection upgrades package
$20 million will be used to deliver business cases for other priority projects and $180 million has been allocated to deliver regionally significant infrastructure projects identified by communities for communities.
Assistant Minister of State Mark Ryan said the State Infrastructure Plan also outlined a clear, four-year pipeline of projects to provide the private sector with the confidence to invest in people and resources, by knowing what projects will be in the market when.
"Providing the private sector with a transparent pipeline of work is vitally important, particularly after the LNP failed to deliver a single infrastructure plan during their three years in government.
"Through the SIP, we now have an infrastructure blueprint that will meet the future demands of our population and deliver economic growth and jobs for Queenslanders year after year through better infrastructure planning and better decision-making.
"For South East Queensland, projects over the next four years include:
New Generation Rollingstock
Sunshine Coast University Hospital completion
Gateway Upgrade North
Moreton Bay Rail Link
Construction of 10 new schools in South East Queensland
Gold Coast Light Rail Stage 2
Commonwealth Games venues
Energex augmentation and asset replacement.
"This $500 million State Infrastructure Fund builds on the Palaszczuk Government's existing capital budget of $35 billion over four years, which has supported more than 27,500 jobs across Queensland this year alone."
State Member for Pumicestone Rick Williams said the State Infrastructure Plan completely transformed how Queensland prioritises infrastructure, by taking the politics out of the planning process.
"This was made very clear when we established Building Queensland, to provide our government with independent, expert advice and ensure infrastructure projects government-wide are prioritised based on rigorous business cases, including cost-benefit analyses and community benefits," Mr Williams said.
"The State Infrastructure Plan will further guide us to deliver the right projects at the right time, and it will also ensure we deliver jobs for Queensland far beyond the mining boom, providing much needed certainty for our construction industry."
Other key reform measures outlined in the State Infrastructure Plan include:
Establishing an Infrastructure Cabinet Committee to drive infrastructure coordination and development
Establishing an Infrastructure Portfolio Office to coordinate and integrate state government infrastructure, land-use and economic planning
Developing five new strategic infrastructure network plans for Transport, Water, Energy, Digital and Social infrastructure

Enhancing the government's ability to fund and finance infrastructure through a focus on value capture and improving alternative funding and financing options in Queensland
Reviewing fragmented local government infrastructure grants programs to optimise prioritisation; and

Establishing a joint industry/government Infrastructure Innovation Taskforce, and a Community Infrastructure Reference Group to provide thought leadership through a prioritised program of work.
The $500 million State Infrastructure Fund is funded in this year's budget without the need for new borrowings.
For more information or to view the State Infrastructure Plan visit dilgp.qld.gov.au/SIP