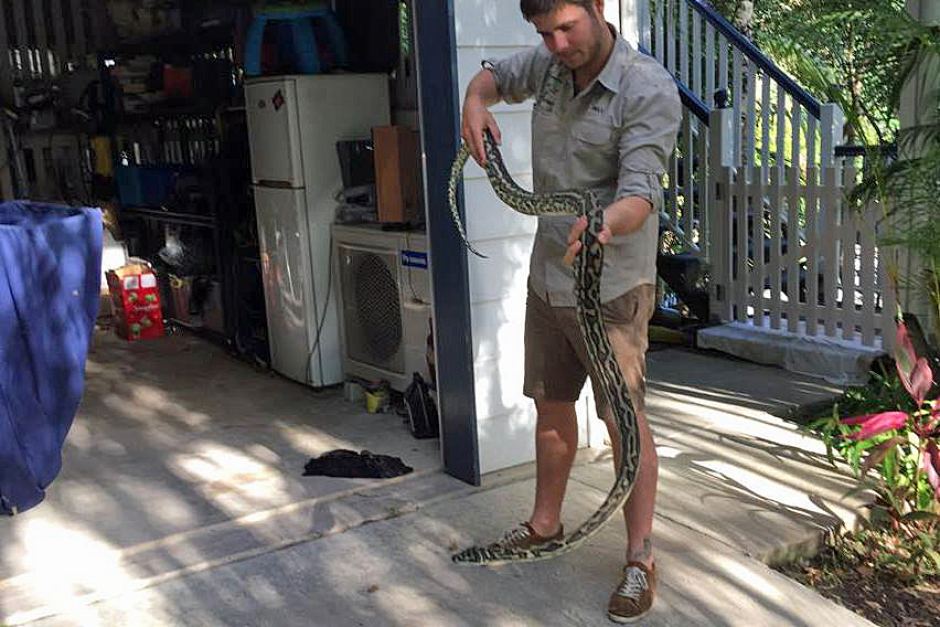 Global warming means snakes are on the move in Queensland
Warmer days and a 'longer' summer means an extended period of time for snakes to be out and about, according to animal experts.
After the Sunshine Coast's first clear day of the week, a 2.5-metre carpet python was evicted, after attempting to seek tenancy underneath a Buderim house.
Snake catcher Max Jackson was called in to remove the snake, saying a change in weather could influence the movements of reptiles.
"Over the last two or three days we've had that rainy, overcast period," Mr Jackson said.
"After that cold period, they [snakes] are utilising this extra bit of warmth to go and get and get their hunt on."
Weather impacting snakes
But Dr Scott Burnett, a lecturer in animal ecology at the University of the Sunshine Coast, said we should be more concerned about long-term weather patterns.
According to Dr Burnett, new NASA data, which found that February was the hottest month on record since 1880, could mean that snakes would be out and about for more of the year.
"They're saying that we've hit the 2100 temperate thresholds this year. So as much as it's the rain, this is another side effect of global warming," he said.
"It just means that those warm nights, which are the real trigger, are extending further and further into the year."
Dr Burnett said warm humid night-time temperatures encourage snakes to be active, and go out hunting.
"We will see a much longer summer, and we know that summer is the time when most snakes and reptiles are active."
"It just means that that there more days of the year that are snake-friendly."
Urbanisation of bushland
Dr Burnett also said while the weather was impacting the visibility of snakes, they were also influenced by the movement of people into regional areas.
"As much as anything it's the spread of suburbia into bushland area, which means that more and more people are encroaching on the snake's habitat," he said.
Mr Jackson agreed and said as long as there was no direct threat to humans, we should appreciate the native fauna.
"We always try and suggest to people that if they don't have any small pets or anything to worry about just to appreciate the animal, if it is a carpet python or a tree snake it's harmless and it's part of Australia."
Source: ABC Sunshine Coast