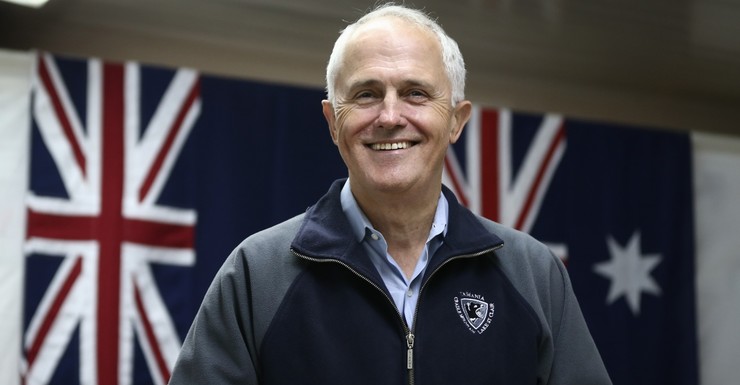 Federal Election will be in 'latter part' of the year
Malcolm Turnbull isn't discouraging speculation about a July election.
There are strong signs from within the government that the federal budget will be moved forward a week to May 3 to allow the passing of supply bills, before the prime minister calls a double dissolution election for July 2.
Campaigning south of Adelaide on Wednesday, Mr Turnbull told reporters: 'I don't want to discourage you from engaging in (speculation), but I just say to you that the election will be held in the latter part of the year.'
'As far as the budget is concerned, the budget is set down for May 10 and that's what we are working towards.'
The government will need to reveal its thinking next week if it wants an earlier budget sitting.
The Senate requires that any change in sitting arrangements is the subject of a motion passed while senators are meeting.
Next week is the final scheduled parliamentary sitting week before the May 10 budget.
If an election is called on May 11, it would mean an election campaign of more than seven weeks.
Assistant Minister Karen Andrews admits that's a very long time.
'But I think there are some real positives in having a long campaign,' she told Sky News.
It would give MPs the chance to spend a lot of time in their communities.
A July 2 election could not be called an early poll, she said.
'In July we will have been in government for 34 months so it would hardly be an early election,' she said.
Cabinet minister Peter Dutton said he was prepared for an election now.
'I told my wife no holidays this year. I think any time between now and September,' he told 2SM radio.
Nationals senator John Williams said the government would have no choice but to dissolve both houses if the Senate voted down legislation to restore the building industry watchdog.
Draft laws to reinstate the Australian Building and Construction Commission has already been rejected once and could be a trigger for an election of both houses if its passage is blocked again.
'If the Senate rejects that, in my opinion, I think Malcolm Turnbull has no option but to go to a double-dissolution,' he told ABC radio.
Former Victorian Liberal premier Jeff Kennett said the government was running scared.
'They're trying, I think, to use this talk of a double-dissolution, an early election, simply to cover up their own failings,' he told radio 2UE.
Opposition Leader Bill Shorten is campaigning on the NSW Central Coast and will comment later on Wednesday.
Source: AAP