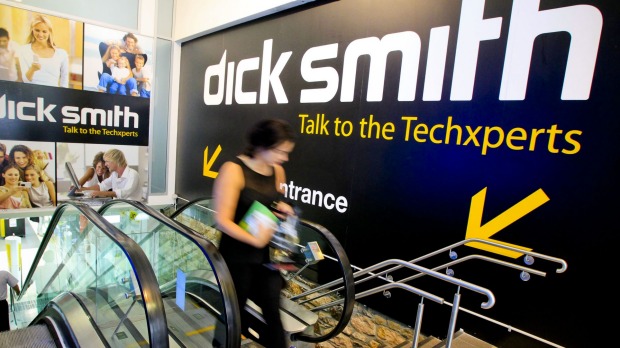 Dick Smith collapse: Kogan buys struggling online business
Online-only retailer Kogan has purchased Dick Smith's online retail business for an undisclosed sum, three weeks after Dick Smith announced the closure of its stores.
Key points
Kogan is paying an undisclosed sum for Dick Smith's online store
The new owner will take over the business on June 1, 2016
Dick Smith customers have until March 22 to stop their details being passed on to Kogan
Kogan will operate the online business from June 1 after a transition period.
In February, Dick Smith said it would shut 363 stores across Australia and New Zealand after its receivers Ferrier Hodgson were unable to find a suitable buyer for the company.
Kogan's purchase is no help to almost 2,500 staff in Australia, and more than 400 in New Zealand, who are still set to lose their jobs as the physical stores close.
"I remember as a kid always visiting Dick Smith to look for parts to upgrade my computer," said founder and chief executive Ruslan Kogan in a statement.
"There is a strong history of passion in the Dick Smith community for how technology can improve our lives."
Kogan has not yet revealed details of how it might use the Dick Smith brand once it takes over.
James Stewart, one of Dick Smith's receivers, said multiple bidders were involved in a thorough process.
"We are particularly pleased that the Dick Smith brand will continue under [Kogan's] stewardship," he said.
Existing Dick Smith customers will have their personal details disclosed to Kogan unless they request that information be removed by March 22.
Customers with two or more email addresses signed up have been advised that they must opt out for each separate email address.
Dick Smith's receivers said the company's customers would still be able to opt out of receiving marketing communications at any time in the future.
Dick Smith: What went wrong?
Private equity group Anchorage Capital bought Dick Smith from Woolworths in 2012 for an initial payment of just $20m.
Anchorage then "dressed the company up to look good for just one thing - to persuade people to buy shares," according to analysts from Forager Funds Management.
Anchorage "wrote down the value of the inventory, took provisions for future onerous lease payments, wrote down the value of the plant and equipment and liquidated a lot of the inventory as quickly as they possibly could to throw off cash," according to Forager's Steve Johnson.
The cash was then used by Anchorage to effectively make Dick Smith 'buy itself'.
The writedowns inflated profits, a key factor in enticing investors into the company.
For example: a stock item that may have been bought for $100 may have been in the books at $60 after the writedowns, which meant an extra $40 profit on every sale.
The writedown of plant and equipment lowered depreciation charges, also boosting the bottom line.
"But when they liquidated all that inventory to pay for the purchase price, they didn't replace it," according to Forager's Steve Johnson.
"And the new owners of the business, since it's been listed on the stock market, have had to put in a lot more money to fund the increase in inventory."
Source: ABC News