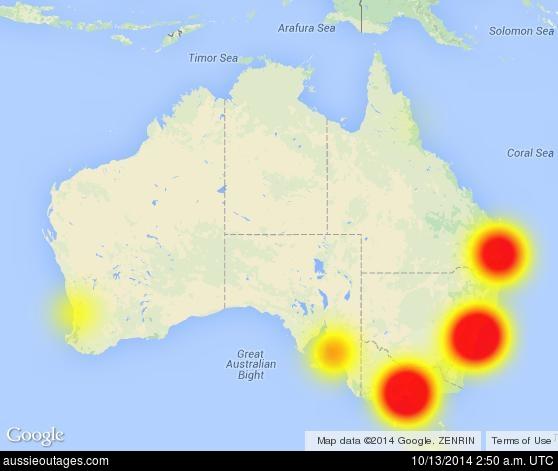 Customers complain of another Telstra outage
Update 12:55 pm- The latest Telstra outage appears to be over.
The company confirmed a short time ago the problems that caused the disruption nationwide had been fixed. There was no indication of what caused the outage, with a tweet from the telco simply saying the issue "had been resolved".
But some customers complained they were still unable to connect to the network 20 minutes after Telstra said the issue had been resolved
Earlier: Customers are complaining of yet another Telstra outage, the third one in two months.
Twitter has been flooded with complaints from people suggesting their mobile service is not working.
A Telstra spokesman confirmed that customers were reporting difficulty making voice calls on fixed and mobile networks.
"We are investigating as a priority," he told news.com.au.
The outage appears to be affecting people in Melbourne, Brisbane, Perth, Sydney, Adelaide and Hobart.
As complaints started to roll in, Telstra's official Twitter account advised one person to try turning their mobile phone on and off again.
It is the second outage to hit the Telco in the space of four days, and the third incident in two months.
Last Friday, millions of Telstra customers across Australia were unable to access phone and internet after a large number of services to be disconnected at the same time, causing extreme congestion.
The outage caused Telstra CEO Andrew Penn to issue a grovelling apology, saying he accepted full responsibility for the problem and offered customers another data free day on April 3.
Thousands took to social media after being unable to access their services around 6pm last Thursday.
While services were restored within four hours, some customers complained of ongoing problems into the next day.
At the same time, other Telstra users complained of poor internet speeds, broken landlines and failure to access various websites with the finger being pointed straight at the Telco.
A spokesman for Telstra told news.com.au last week that it appeared there was a routing issue between Telstra and Amazon Web Services.
 It followed a huge outage in February, that Telstra blamed on an "embarrasing" error made by a worker.
At the time IT operations consultant Sam Newman of ThoughtWorks, told news.com.au it was surprising that Telstra chief operations officer Kate McKenzie would blame one person for the outage.
"It's about the system you create, it's not about individuals," he said.
The current outage appears to be effecting Brisbane, Melbourne, Perth, Sydney, Adelaide, Saint Kilda, Pymble, Surry Hills, South Yarra, and Blacktown.
Source: Courier-Mail Aussieoutages dot com