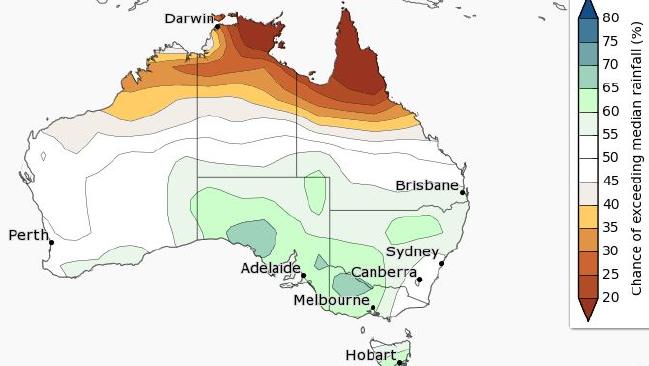 BOM says The next three months will bring some much needed rainfall
The Bureau of Meteorology has predicted above average rainfall across some Australian states throughout April and May.
It has the potential to break droughts in certain areas and BoM senior climatologist Andrew Watkins said in a climate outlook report that much needed rain would fall to give people respite after an abnormally dry February.
He said the El Niño continued to dominate the climate in Australia, keeping it hot over summer, but the epic weather event, which has a drying influence, is expected to weaken in the middle of this year.
"It's declining in the Pacific Ocean and trade winds, which become light during El Niño, have recently been their strongest in nearly two years," Dr Watkins said.
Rain has been sparse for some time but Longreach in Queensland welcomed some downpour in summer, however it wasn't enough to break its drought.
Dr Watkins said Longreach had missed out on nearly 18 months of normal rainfall over the past three years.
Right across the country we saw a scorching summer with warmer than average temperatures.
Dr Watkins said southern parts of the country experienced short, sharp heat events but WA suffered through prolonged heatwaves.
"In early February there were four days in a row over 40C in Perth, equalling the record set in 1933," he said.
On February 11, nine of the hottest spots in the world were in WA.
We will see most of the rainfall this autumn in April, and very little in March.
According to BoM weather maps, there will only be a 35 to 40 per cent chance of rainfall in Victoria in March, significantly less than the average.
However, in April the chance of rainfall will jump to 60 to 70 per cent, significantly higher than the average.
The summer has dried out Victoria and BoM forecaster Peter Blake said the summer sucked moisture from the soil.
However, the expected rainfall could begin to combat the drought in the state.
"There won't be enough to break the drought initially," he said.
"Some areas down in the south west of the state are suffering from severe deficiency, there was quite poor rainfall for a period of time there."
He said hotter than average temperatures for March would contribute to dry soil.
Mr Blake said the hot summer could be mainly blamed on the El Niño.
"It doesn't give you a great deal of moisture and you get quite a deal of sunshine and hot air over inland Australia. Monsoons aren't very active at the moment hence we are getting a lot of heat that goes northerly and getting a lot of heat over south eastern Australia. That explains the hot temperatures, especially in northern Victoria."
As the El Niño starts to break down, the water will cool in the Pacific Ocean allowing for winds to drag in cooler air and create more clouds that generate rainfall.
Source: Courier-Mail