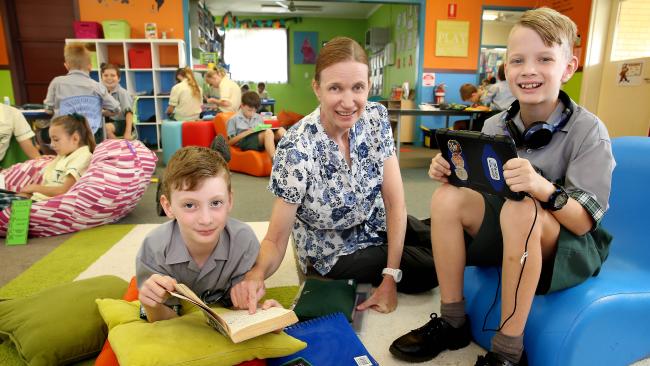 Agile learning concept introduced at St Pauls Lutheran College at Caboolture delivering results
The key to solving classroom battles forever could lie in lessons learned at a Caboolture school.
St Paul's Lutheran Primary School has joined a growing education movement called agile learning, which Principal Anton Prinsloo said was boosting the engagement of students and improving report cards.
He said the Year Four classroom was one stripped of traditional desks and filled with "flexible learning spaces" outfitted with bean bags, whiteboard tables children could write on and a range technology-based "pods". Children picked their learning activities from a list that offered choices according to learning styles, he said.
"The students have flexibility, but it comes with responsibility," Mr Prinsloo said.
"This is about acknowledging that every learner has a different style of learning, and it is to get the maximum result from each child.
"We are finding that for tasks children shied away from in the past — for example, boys can be particularly challenged by creative writing — they are now more engaged with because they are suddenly able to choose how they complete that task in a style that suits their personality. Take spelling: For a creative child, one of the options could be to write every letter in a different colour, but a child who likes structure might ask `please tell me a word and I will spell it back to you'.
"We are trying to get children to `own' their learning journey."
Michael Garimort said his son William, 9, from Caboolture, was enjoying the new regimen because "he was not hemmed in by other students' progress" and was less likely to be distracted by others.
"The best example I can think of to describe it is that we haven't bought a Year Four maths textbook this year," Mr Garimort said. "There are four of five different levels of maths going on in the one room and only about 40 per cent of those students would be using that text. In this new environment, there are five or six guys all at the same level as William and they can go off and work at their level."
Jenny Davis works in the class as a teacher assistant, and also has twins Bailey and Tait Smith, 9, in that room.
"I have seen amazing growth in the independence and organisational skills," Ms Davis said.
"Working there — I don't even know how to describe it. It is quite a relaxed environment because everyone has found an environment in which they are comfortable to learn in. So the children are very relaxed and happy and that makes them ready to learn."
TAKE HOME LESSONS FOR PARENTS
Families not exposed to agile learning could still benefit from its ethos, Mr Prinsloo said.
The key, he said, was to create a homework environment that suited that child's learning preferences.
"That takes the fight factor out of it," he said. "A child does not have to sit at a table or desk to do reading, just as adults would seek out a comfy space to read.
"But they have to know with that (freedom) comes responsibility, that they have to do the work.
"So you might have a son who at home will seek out a slightly darker space for a reading activity, and research has brought that to the fore. So if they are coming home and choosing to read under the dining table, tell them that you have no problem with it but that they are not to muck around in there.
"It is about letting go of some of the control, so students can take ownership of their learning."
Learning styles:
Scholastic.com has a series of age-based quizzes that could help find out what learning style suits your child.
http://www.scholastic.com/parents/tools
Language Learners: Learns best through listening to explanations and talking about them. They may find written instructions harder to follow and understand, and could talk to themselves while learning. They enjoy
Visual Learners: Learns best through seeing what they have to learn through illustration or action. They can seem distracted and doodle while learning, and will take notes. They want to be shown how to do something to remember it.
Physical Learners: Hands-on activities are best because movement helps them remember what they learn. They could seem fidgety and find it hard to sit still, as they like to move while listening and touch things they are learning about.
Logical Learners: They learn through finding patterns in what they are learning and how it relates to other subject areas. They like to know how things work, ask a lot of questions, and like math-based games and strategy games, even from a young age.
SOURCE: Fiona Baker, kidspot.com.au