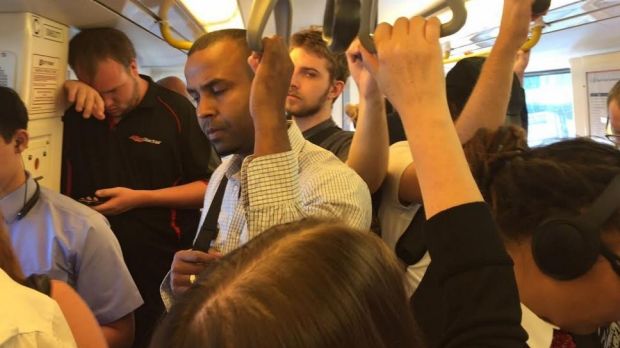 What it is really like on south-east Queensland's busiest trains
"Are you the train inspector?" the man asked, spotting my notepad, phone and biro.
"No, I'm a reporter coming to see how crowded these train carriages are," I said.
"Good," he said, hanging onto the back of a train seat as we both bumped into Bowen Hills station along the Ferny Grove line.
"Take a look around. This is exactly what it's like every morning."
Fact 1: Caboolture and Ferny Grove have replaced the Gold Coast line as Southeast Queensland's busiest rail lines.
That was my introduction to the Ferny Grove rail line on Wednesday morning as I got on a train at Newmarket just after 7.43am.
It was a three-car train, meaning it had the train engine and three passenger cars.
And it was crammed tight. People jammed together tightly in the section where the doors open, standing chest to back against each other all the way down the middle of the carriage.
I could see through the three carriages. They were all full. Very, very full.
These carriages are among Brisbane's most congested.
Rail Back on Track – which raised concerns last week – is correct. The three-car trains were very full and very close to the 500 passengers' maximum.
They estimated they held 500 to 550 passengers. Once it gets over 500 Queensland Rail gets edgy because 500 passengers is Queensland Rail's design maximum.
Fact 2: Queensland Rail found some three-car trains have an average of 470 passengers, half of which are standing.
"In the morning on the Ferny Grove inbound line the three-car train carrying the most passengers is the 7:25am with a maximum load of 470 passengers followed by the 7:10am with 439 passengers and the 6:55am was third with 320 passengers," a spokesman said.
Fact 3: On the Ferny Grove line a three-car train is followed by a six-car train eight minutes later.
These six-car trains are busy, but not full. There is room on these six-car trains.
"For six-car trains the highest maximum load was the 7:40am with 570 passengers, the 7:47am had 488 passengers with the 7:17am third with 487 passengers," according to Queensland Rail.
But that means the six, three-car trains in the morning-peak on the Ferny Grove line are very crowded, and at this stage close to capacity.
This is the way one passenger described it to me on Wednesday morning:
"The problem is restricted to the three-car trains. The six-car trains are fine. But sometimes it's hard to get anyone else on, unless they get the Tokyo push on," he said.
Fact 4: Queensland Rail also gets nervous if passengers are standing for more than 20 minutes. They are already choosing not to get on the three-car trains from Alderley.
The Ferny Grove line is relatively short; but it is 20 minutes from Gaythorne to Central; so if the trains have people begin standing from Gaythorne, Queensland Rail will again be nervous.
Because there are new trains yet to be added. And the population is set to grow.
Mitchelton – further out along the Ferny Grove line - is growing quickly with new units being added where the suburb has good medical, transport and shopping facilities.
"Mate, the peak is going to spread," one source said.
"Mitchelton station; that's going to get hammered in the future with all the units," he said.
Queensland Rail's chief operating officer Kevin Wright said timetable reviews over the past 18 months added 33 extra peak services.
"The vast majority, or almost 90%, of peak services across the City network run as six-car trains," Mr Wright said.
"While we are unable to facilitate three-car upgrades at present, reviewing the use of three-car services across our network will be a priority once 75 new generation rolling stock trains start progressively rolling out across the network from late 2016."
Where do the passengers travel from?
The busiest trains carrying the most passengers are the Caboolture, Ferny Grove, Ipswich and Cleveland lines, with the Gold Coast – previously described as the "Mumbai Express" reflecting its crammed conditions – well down the list.
Coming to work - arriving at Central between 3am and 8.30am
1 Caboolture – 12,102 passengers
2 Ferny Grove – 7537 passengers
3 Ipswich/Rosewood – 6799 passengers
4 Cleveland – 6746 passengers
5 Springfield – 5843 passengers
6 Shorncliffe – 4410 passengers
7 Gold Coast – 4181 passengers
8 Beenleigh – 3598 passengers
9 Sunshine Coast – 2912 passengers
10 Inner-City – 775 passengers
11- Doomben - 429
Going home - leaving Central between 3.30pm and 7pm.
1 Caboolture - 12,619 passengers
2 Ferny Grove – 8245 passengers
3 Ipswich/Rosewood – 8113 passengers
4 Cleveland – 7515 passengers
5 Springfield – 6947 passengers
6 Shorncliffe – 5943 passengers
7 Gold Coast – 5328 passengers
8 Beenleigh – 4664 passengers
9 Sunshine Coast – 3008 passengers
10 Inner City – 1137 passengers
11 Doomben – 947 passengers.
(Source: Translink)
Source: Brisbane Times