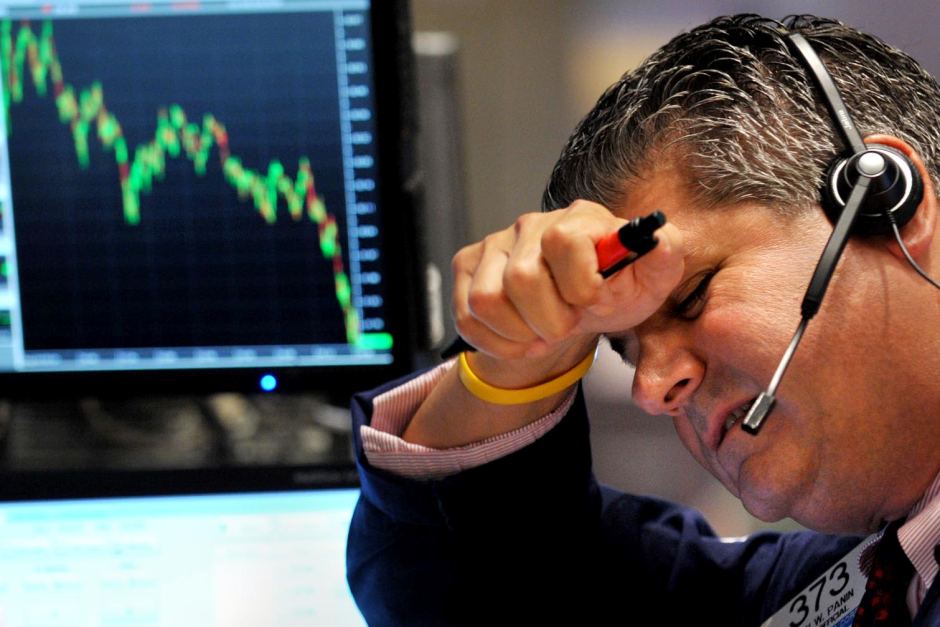 Wall St, European shares plunge; gold price surges
Nervous investors looking for safe havens have sent gold prices to their highest level since February last year.
Key points
S&P 500 index falls 1.2 per cent to 1,829
London's FTSE drops 2.4 per cent, France's CAC 4.1 per cent
Spot gold hits one-year-high of $US1,248 an ounce
Overnight, spot gold surged more than $US50, or 4 per cent, to $US1,248 an ounce.
Since the start of the year, the precious metal has gained 18 per cent in value.
The development comes, amid another sell-off on Wall Street, which pushed the Dow Jones Industrial Average and the S&P 500 down more than 10 per cent for the year.
Sentiment took a nose-dive after Federal Reserve chair Janet Yellen told a Senate panel she felt the US economy was still on a solid footing, despite the current market turmoil around the world.
When asked if the United States could be facing recession, Dr Yellen downplayed the chance of a contraction in growth.
She said, while the Fed was absolutely considering the risks to the US from problems in other regions, it was premature to make a judgement on the impact of market turbulence.
The banking sector suffered particularly large losses but, more broadly, the markets closed off their mid-session lows.
The Dow Jones Industrial Average ended down 1.6 per cent to 15,660.
The S&P 500 lost 1.2 per cent to 1,829 and the Nasdaq fell 0.4 per cent to 4,267.
European markets fared much worse, with London's FTSE 100 tumbling 2.4 per cent to 5,537.
The CAC 40 in Paris slumped 4.1 per cent to 3,897 and Germany's DAX lost 2.9 per cent to close at 8,753.
The Australian share market is also expected to fall today and, at 8:30am (AEDT), the ASX SPI 200 was down 0.8 per cent to 4,731.
At the same time, the Australian dollar was reasonably steady at 70.96 US cents.
On the cross-rates, it was buying 62.66 euro cents, 49 British pence, 79.77 Japanese yen and $NZ1.059.
West Texas crude oil fell to $US26.14 a barrel, the price of a barrel of Tapis was also lower at $US31.51, and spot gold had eased slightly from that one-year high to $US1,246.07.
Source: ABC News