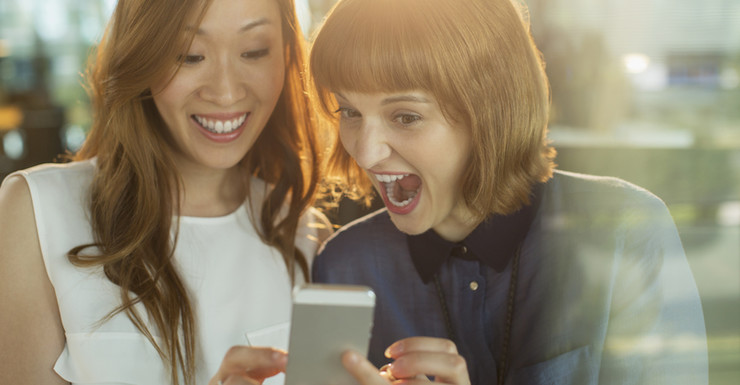 The 25 tech secrets to make your life easier
Your humble smartphone, media player or PC can do way more than you think it can. Here are our favourite hidden features.
Very few of today's technological gadgets and wonders come with an instruction manual.
For many new devices, there may also be a whole range of hidden features that turn a great gadget into a powerful tool.
Perhaps a data-saving app that prevents you being stung for additional data allowance, or an easy way to search for the movies you love.
Here are the best hints, tips and tricks to get the most out of your gadgets.
Android
Face unlock
Newer versions of Android can unlock their phones using face detection. Activate via Settings, Security, Screen Lock, then Face Unlock. Just put your face in front of the screen and blink to unlock.
Force boot
Life doesn't always go to plan. If your system or an app freezes, you can force reboot your phone by holding down the Power button, Home key and the Volume Up button simultaneously.
Avoid an Ex
Dealing with unwanted calls from an ex? Send them straight to voicemail and avoid those awkward moments. Open Contacts and select their details, hit Additional Information and select Send Straight to Voicemail.
Voice search from lock
Every now and then a new feature is introduced to a mobile OS, but without fanfare it can slip under the radar. Google voice search from the lock screen is one such feature. Simply hit the Microphone icon and away you go.
Control data usage
Never risk running out of data with Android's Data Usage tool. Access via System Settings, to set alert limits on your data use that warn you before you've over-shot your allowance.
iPad
Access Mail drafts
If you're on the go, writing an email may happen in stages. To easily access your Drafts folder, press and hold the Compose Mail button to get a pop-up with all your draft emails.
Force quit a frozen app
If an app freezes and you are unable to return to the Home screen, you can Force Quit the app by holding both the Home button and Power button. Once the power off slider appears, hit the Home button again to return to the Home screen.
Night reading mode
If you like reading with your iPad at night, make things easier on your eyes by inverting the colours. Go to Settings, then General, then Accessibility and toggle Invert Colours.
Fast scroll to window top
If you don't already know this, prepare to save hours of your life. When scrolling down a lengthy browser window, simply tap the title bar to fast scroll to the top. Works on iPhone too.
Split Keyboard
It takes a bit to get used to, but using the new split keyboard to type in iPad apps is the way to go. Press and hold the Keyboard icon (lower right) to bring up the Dock/Split option, then type away with keys either side of the screen.
iPhone
Teach Siri your name
You can teach Siri to pronounce your name correctly. First ask her to say your name, then tell her 'you're not pronouncing that correctly'. You can then coach her to perfection.
Silence a noisy friend
Do you have a friend who messages you every moment of the day? Silence their messages only by selecting them in iMessage, then hit Details and toggle Do Not Disturb.
View all photos from a friend
Easily find all the cat photos sent by a friend by simply selecting them in iMessage, then select Details in the top right. Now scroll down to view all images in the message thread.
Respond to texts from the lock screen
No need to unlock your phone to return a text message. Simply swipe down on the lock screen to open the Notifications screen, then left on the message to reply.
Windows 10
Print to PDF
At last, Windows users can print directly to PDF instead of using third-party software. Select File, Print, then from either Printer or Destination select Print as PDF.
Background scrolling
Want to work in one window while you scroll over a window in the background? Simply go to Settings, then Devices, and turn on the feature in Mouse and Trackpad.
Multitask trackpad gestures
Windows multitasking gestures finally catch up to Mac OS X. Pinch-to-zoom, two-finger tap for right click, three-finger swipe up for Task View and three-finger swipe left/right for Alt-Tab are just some of the new features.
Find a lost phone or PC
If you've had a Windows phone or another Windows device go walkabout, you can now track them down. Go to Settings, then Update & Security, where you'll find Find My Device.
Apple TV
Swipe up to quit an app
Like iOS, you can quit apps in Apple TV by double-tapping the Home button, then swiping up on the trackpad. Great for when an app hangs on launch or freezes during use.
Never miss a word
Missed that last line? Simply grab your Siri Remote and ask, 'What did he/she just say?'. Siri will rewind the movie or TV show 15 seconds and turn on subtitles for the portion you missed.
Movie search via quotes
Clearly, a movie lover at Apple programmed this feature. Use the Siri Remote to perform a voice search for a title by using a quote from the movie. For example, 'Beam me up' will bring up all Star Trek movies available.
OS X
Use Spotlight Search to launch apps/files
Quick launch apps or files without diving into the Applications folder or mousing over the Dock by using Spotlight Search. Press Command-Space or click the Magnifying Glass (top left) and type the appropriate name, then hit ENTER.
Fast Tab through apps
Switch between apps by holding down the Apple key (Command) and hitting Tab. You can also Quit an app by pressing Q, or Hide it by pressing H.
Quick Preview files
Most files in OS X can be viewed quickly, without needing to open the necessary app by highlighting the file in Finder and hitting the Spacebar.
Power search in Spotlight
Spotlight is swiftly moving towards being a virtual assistant for Mac users. Hit Command-Space and type any request, such as 'What's the weather in Sydney CBD?".
Source: TND