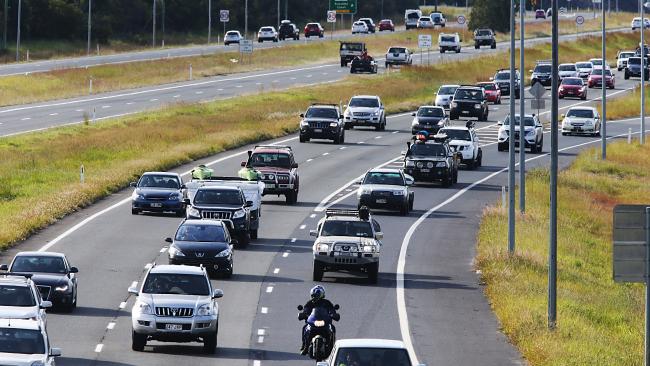 Signs designed to bust Bruce Highway traffic to be switched on for testing on Monday
Variable Speed Limit (VSL) signs on the Bruce Highway southbound lanes will be switched on from February 29 as part of the next step of a plan to ease traffic congestion.
Electronic signs between the Uhlmann Road overpass and the Pine River Bridge will display reduced speed limits when congestion, accidents or bad weather occur.
Queensland Minister for Main Roads and Road Safety Mark Bailey said once the electronic signs are switched on and they will display the default 100km/h speed limit while they are tested over the next couple of weeks.
"Once testing is complete, motorists may notice the signs operating in peak periods if the highway becomes congested," Mr Bailey said.
"By adjusting the speed limit, we're able to make sure that all motorists are driving to the conditions."
Minister for Infrastructure and Transport Darren Chester said the signs would improve road safety and traffic flows on the southern end of the highway.
"54 variable speed signs have been installed on this very busy 18 kilometre stretch of the Bruce Highway," Mr Chester said.
"The signs are part of the jointly funded $34.8 million Bruce Highway Managed Motorways Project which is designed to improve management of traffic on what is a crucial link in the national highway network."
RACQ Senior Traffic and Safety Engineer Gregory Miskowycz said the change in speed limits will be beneficial to daily drivers.
"It may be a new experience for some, but motorists will soon understand that the lower speed limit will only apply when needed and will adjust quickly to the new signs," Mr Miskowycz said.
"Variable speed limits will improve safety by slowing vehicles when there is congestion ahead, smoothing out the traffic flow and minimising the chances of crashes occurring.
"The signs can also provide a safer road environment for emergency services and recovery personnel attending to incidents."
Source: Quest News