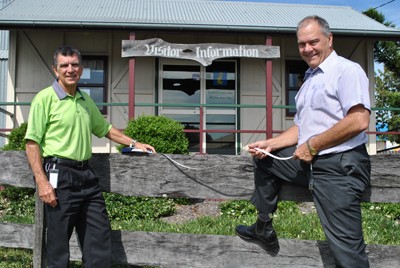 Samford to welcome visitors to village's tourist centre
Tourist demand for information when visiting Samford will soon be satisfied with the opening of a dedicated Visitor Information Centre in John Scott Park.
The popular park at Main Street in Samford Village will be home to the Moreton Bay Region's newest tourist information hub in the coming weeks.
Councillor Bob Millar (Division 11) said that Moreton Bay Regional Council's existing Visitor Information Centre near the Strathpine Library would be relocated to Samford Village this month.
He said it would be the seventh council Visitor Information Centre in the Moreton Bay Region.
"The first Samford Visitor Information Centre is part of council's commitment to growing tourism in the Samford and Dayboro valleys, and making the Moreton Bay Region an even better place to live, work and play," he said.
"Samford is the gateway to the Moreton Bay Region's hinterland areas with a host of great day-tripper visitor experiences, walking trails, bed and breakfasts and breathtaking views."
Installation of irrigation and returfing of grassed areas of John Scott Park, which also features the Slab Hut – home to the Samford Art and Craft Association – will follow the fit-out of the relocated Strathpine Visitor Information Centre.
Relocation of the building to Samford Village will make way for a new Visitor Information Centre to be built in Pine Rivers Park.
Moreton Bay Deputy Mayor Mike Charlton said Council had awarded a $350,000 tender to a local builder for the construction of the new freestanding building at Strathpine.
It will be a 133m2 steel framed and aluminium-clad building with a front deck.
"A prime, high profile site within Pine Rivers Park has been earmarked as the location of the new Visitor Information Centre which has been designed to have a visible street presence from Gympie Road," Cr Charlton said.
"The new centre will also be uniquely placed to provide support for major events in Pine Rivers Park including Brisbane International Garden Show and the hugely popular Decades Festival."
Construction of the new Strathpine visitor site is expected to be completed in late-April, weather permitting.
In 2014-15 the council-operated Visitor Information Centres welcomed and assisted 72,000 visitors to Moreton Bay Region.
People wanting to volunteer at the new Samford Village Visitor Information Centre can express their interest at www.moretonbay.qld.gov.au/volunteering.
Source: The Westerner