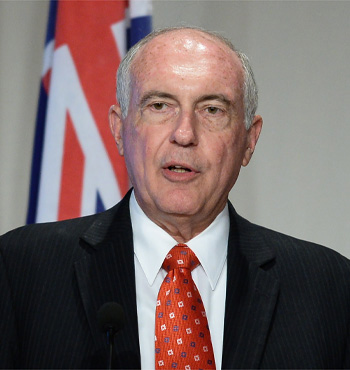 Retirements spark reshuffle speculation
Deputy Prime Minister Warren Truss has  announced his retirement date in federal parliament at this afternoon.
Mr Truss  addressed the Nationals party room on his retirement schedule shortly before his statement to the House of Representatives .
Prime Minister Malcolm Turnbull also made a statement following Mr Truss.
Mr Truss' announcement has come a day after Trade Minister Andrew Robb confirmed he was calling it quits.
Mr Robb on Wednesday announced he won't contest the next election, saying he felt the time was right to leave politics and hand over the baton to the next generation in the Liberal Party.
He believes the Turnbull government is in 'great shape' and no longer requires his assistance.
His announcement came amid reports Mr Truss was expected to make his retirement intentions clear on Thursday.
Prime Minister Malcolm Turnbull hailed Mr Robb the most successful trade minister in the country's history, noting three 'enormous' free trade deals with China, Japan and Korea signed on his watch.
The prime minister also pointed to his work securing the Trans-Pacific Partnership, a historic trade agreement between 11 countries including the United States and China.
Mr Robb, 64, has ambitions to work in the private sector and mental health and doesn't want to leave it too late.
'I'd be 68, 69 after the next term, and I felt that was leaving it too late,' he told ABC's 730 on Wednesday evening.
But he won't be leaving the ministry in a hurry, confirming the prime minister wanted him to stay on potentially for some months.
Cabinet Secretary Arthur Sinodinos told Sky News that Mr Robb had indicated he would not contest the next election.
'As I understand it he is announcing his retirement tomorrow,' Senator Sinodinos said.
He said Mr Truss would have more to say about his future on Thursday.
'I would encourage them to stay as long as possible - they are both very solid performers,' the minister said.
The pair's announcements will provide Mr Turnbull an opportunity for a major ministerial reshuffle.
He already has to fill two ministerial seats in the wake of scandals claiming the scalps of Jamie Briggs and Mal Brough, with a cloud over another minister, Stuart Robert.
The human services minister is the subject of an inquiry - which could report back as early as Thursday - into whether he breached ministerial standards by helping a friend and Liberal Party donor sign a mining deal in China in 2014.
Agriculture Minister Barnaby Joyce is widely tipped to take over the Nationals leadership from Mr Truss.
Labor frontbencher Tony Burke said he wished Mr Truss and Mr Robb well.
'(But) from Malcolm Turnbull's perspective that means in the last two months he's already lost four - they're dropping like flies around Malcolm Turnbull at the moment,' Mr Burke told Sky News.
Source: AAP