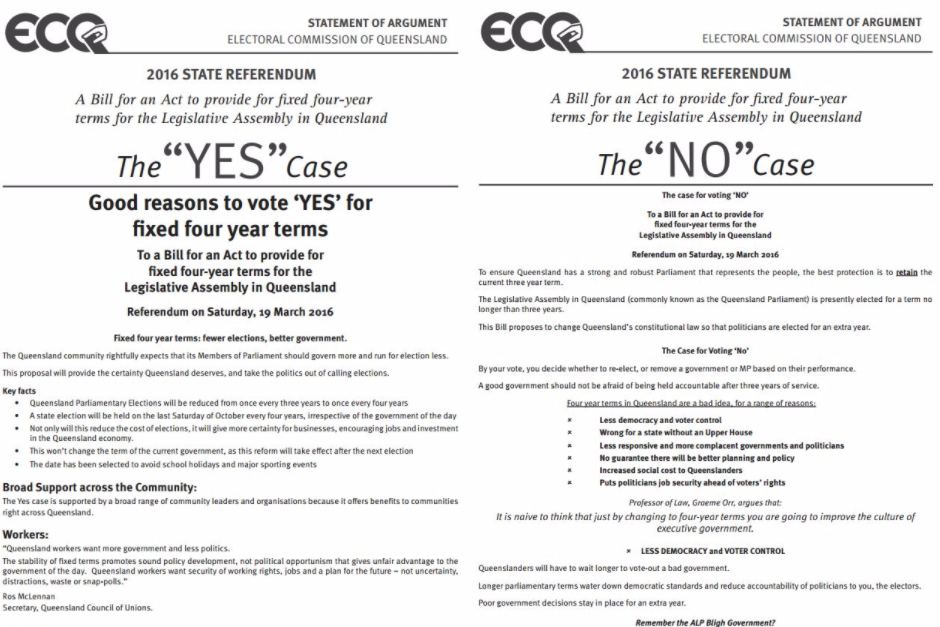 Queensland referendum: Pamphlet on fixed parliamentary terms 'a storm in a teacup'
Voters will not be influenced by the layout of the pamphlets for next month's Queensland referendum on fixed four-year parliamentary terms, shadow attorney-general Ian Walker has said.
Supporters of the "no" case had complained the formatting of the "yes" argument was more eye-catching in material distributed to households.
Lawyer and "no" campaigner David Muir has said the format and printing style of the pamphlet unfairly favours one argument.
Mr Walker — who along with the Labor Government backed longer terms — said the public's decision would be based on substance, not style.
"At the end of the day, I think if the argument is won or lost on the size of the type, we're in trouble, so I don't think it will be," he said.
"I do think it's a storm in a teacup and I think Queenslanders will see well beyond that to the substance of the arguments.
"The 'yes' case was signed off by the members of Parliament who support it, sent off to the Electoral Commission, and what they do with it is their business."
Yesterday, the Electoral Commission Queensland (ECQ) said it had not chosen to give the "yes" case more prominence in the material.
An ECQ spokesman said the Statements of Argument were written and formatted by the Members of Parliament who voted for and against the bill to hold the referendum.
"The ECQ was under instructions not to alter the formatting of the arguments and consequently we have printed them as they were submitted to us," the spokesman said.
The "yes" case is supported by both major parties.
The Clerk of the Parliament said he has had no contact with the ECQ about the matter, and has no power to direct or instruct anyone about it.
The referendum is being held on March 19, the same day as council elections across Queensland.
Source: ABC News