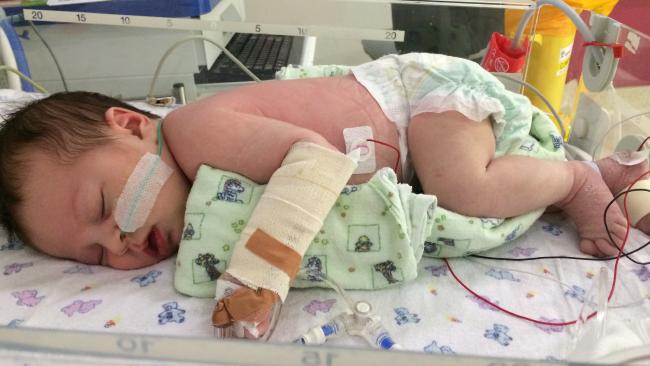 Parents of newborn babies warned as highly contagious and potentially deadly infection takes hold in Queensland
PARENTS and doctors have been put on alert for a potentially fatal and little recognised virus that has broken out among newborn babies in Queensland.
There have already been 55 cases of parechovirus in the state this year, 90 per cent of them among children less than three months old.
Infectious diseases expert Dr Theo Sloots said the very young were in the "danger period" to contract parechovirus, which is highly contagious.
Parechovirus wasn't recognised until late 2014 when a test was finally developed.
The virus broke out in Brisbane in September and Dr Sloots has since tracked it spreading through infants on the Gold Coast, Toowoomba and, last month, in Townsville, Mackay and Bundaberg.
"It's an important issue," he said. "When children get sick they go to the GP who doesn't recognise it as parechovirus. They just think it's an infection. Awareness needs to be raised among GPs."
There were 172 cases of parechovirus recorded in Queensland last year.
It can cause mild respiratory or gastrointestinal symptoms in babies but in newborn infants, can lead to serious complications such as hepatitis or encephalitis, and can be fatal.
"It's in the kids under three months that it causes severe disease and in a considerable number of those, it involves the central nervous system and they go into intensive care," Dr Sloots said.
With funding from the Children's Hospital Foundation, Dr Sloots is working to develop a vaccine to cover the six strains of the virus.
Five-month-old Stella Schembri has recovered after catching parechovirus at 12 days old, but continues to have neurological check-ups.
When she fell ill in September, her temperature hit 39.4C in just minutes and for three days stayed above 39C while her heart rate elevated to 240 beats a minute.
Doctors at Lady Cilento Children's Hospital ran tests but couldn't diagnose what was ailing Stella until, after three days in intensive care, she broke out in a rash and a doctor suggested parechovirus.
"We had obviously never heard of it. The nurses had never heard of it and half of the doctors hadn't even heard it," Stella's mother Janelle Schembri, 31, said.
Ms Schembri urged other parents to act immediately if their baby was unwell and to consider parechovirus.
"If your baby is young and they have a temperature, go to the doctor or the hospital. Act on it," she said.
"We don't like to think what would have happened if we had stayed at home any longer."
The virus spreads person to person through respiratory droplets or faeces.
Source: Courier mail