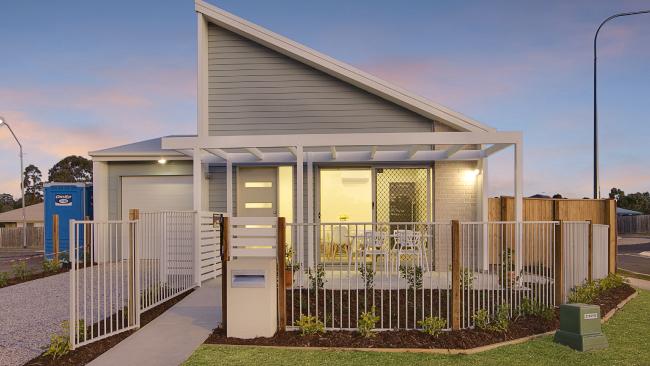 Moreton Bay Region : Penfold Property Group Bay Breeze Village small lot trial popular with owner occupiers
A trial small lot development in Deception Bay has revealed the hunger of the owner-occupier market for affordable housing.
Penfold Property Group have Bay Breeze Village, a 75-lot infill development that is part of a trial with Moreton Bay Regional Council of six projects with lots as small as 150sq m.
Penfold's managing director Marc Wilkinson said eight lots slated for investors had been snapped up instead by owner occupiers.
"The whole lot sold pretty much on release," he said.
About 60 per cent of Bay Breeze Village has sold, with lots ranging from about 180sq m to 200sq m. Remaining house and land is priced from $273,440 for two-bedroom.
"It used to be that was a first-home buyer product, but you have everyone from 80-year-olds, to young couples, it's quite an eclectic mix of buyers, but very few of them are first-home buyers. I think even at that price point first-home buyers are struggling to find the deposit," he said.
Moreton Bay Regional Council deputy Mayor Mike Charlton said while 150sq m block sizes may seem small, it was the equivalent of a townhouse and without body-corporate management.
"This is unbelievable value for home buyers and it's not just about the house price, it's just as much about the long-term cost of housing," he said.
Mr Charlton said the lots also include public roads and parks maintained by council rates.
Mr Wilkinson said it was a struggle to find more land for infill projects at prices people could afford.
"The interesting thing about Deception Bay is that it's still so inexpensive. It's just behind North Lakes, and you have Mango Hill coming out of the ground where prices are quite high. You can see what's going to happen – it is an older area, particularly the southern part, so it's going to change," he said.
Mr Wilkinson said price growth was already starting to hit .
"You just can't hold it back, and it's because costs are going up," he said.
"The cost of house building going up is an indication that it is very busy out there. The other problem is that there is just such a lack of land."
Source: Quest News