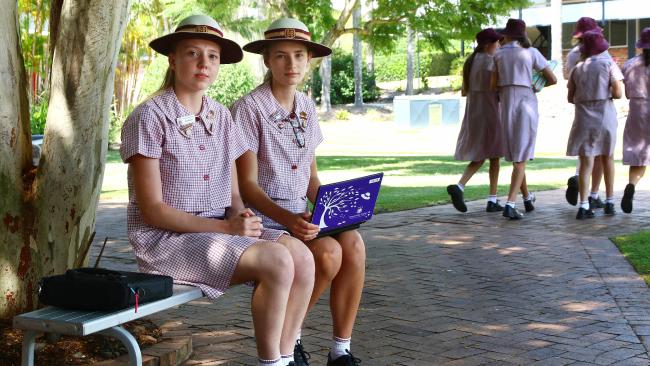 Moreton Bay College launches online reporting system for students to report cyber bullying, relationship, family and other issues
An anonymous online reporting system will make it easier for students at a Brisbane private school to speak up about their concerns.
Moreton Bay College sports captain Amelia Brown said the Big Sister system had three bright pink faces representing levels of concern: unsure, worried and deeply concerned.
"Depending on the issues, the middle face and the higher face will often be (for reports about) bullying and cyber bullying," she said.
"It just gives everyone a voice."
College captain Hannah Bates said every student had her own school laptop and email account and Big Sister would help address cyber bullying.
"It's not just for that but it really allows them to talk about it because often they can be embarrassed or ashamed and find it hard to talk to people about it," she said.
Hannah said it could also be used to report offline behaviour like relationship, friendship and family issues and would be particularly helpful for younger students.
"This system helps people gauge their concern and realise even if it seems like the tiniest thing, it can be reported," she said.
The submissions are sent to deputy head of secondary students Janet Stewart, who will use the information to tailor responses to students.
"For example, if it's a concern about sexting, we will know we need to do more work around that with the girls," she said.
Mrs Stewart said Big Sister was another aspect of the school's programs to teach students to be good "digital citizens".
For serious concerns, where themselves or other students need immediate help, girls are urged to use their or the other girls' names.
Source: Quest News