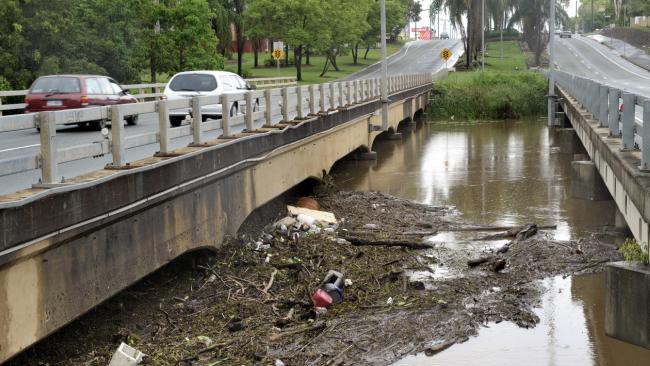 Morayfield Road bridge set to be flood-proofed in coming weeks
Work to replace the southbound Caboolture River Bridge on Morayfield Road is set to begin in the coming weeks — but some residents hold concerns about the effect on traffic flow.
Engineers from the Department of Transport and Main Roads (TMR) met with the Caboolture 10 Neighbourhood Watch group on the weekend to address residents' concerns.
The group's social media manager Lisa Ceh said those concerns included traffic congestion and the effects to emergency service vehicles as well as concerns that the new bridge, which will be raised half a metre, will not be flood proof.
"There are a lot of unhappy customers," Ms Ceh said.
"When there is congestion on the Bruce Hwy they detour people through Caboolture and with the bridge works there will be total chaos."
A spokesman from TMR said traffic modelling indicated queuing and delays for the 30,000 vehicles that use the bridge daily would be manageable.
All traffic will be directed over the two-lane northbound bridge and Ms Ceh said residents were told there would be traffic delays of up to eight minutes.
"While there may be some delays to motorists during construction, the upgrade is essential to provide safe conditions for motorists," the TMR spokesman said.
Ms Ceh said residents also questioned whether work should be delayed until there was enough funding to fully flood proof the bridge, but the TMR spokesman said the planned works were a matter of priority.
"The original southbound bridge was built in 1918 and widened in 1987 to accommodate two lanes of traffic. A series of investigations concluded the structure needed to be replaced," the spokesman said.
"(To flood proof the bridge) would require significant additional funds, and are out-of-scope of the current project."
The contract to build the new bridge is due to be awarded in the coming weeks and construction scheduled to start soon after with work to be completed within one year, weather conditions permitting.
The $17.2 million bridge will be jointly funded by the federal and Queensland governments.
Source: Quest News