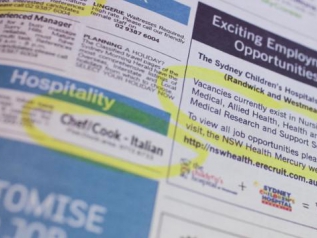 Job ads rebound in January but trend loses momentum
Job advertisements rose in January, but uncertainties surrounding the economy in an election year means the strong rate of job creation in 2015 is unlikely to continue.
ANZ's Australian Job Advertisements series found job ads rose 1 per cent for the month in January, following a slip of 0.1 per cent in December.
"There is some evidence in the trend numbers that job ads have lost a little momentum in the past six months," said ANZ's chief economist Warren Hogan.
"Unfortunately, uncertainties around the economy are mounting," he said, adding that the federal election, expected in the second half of this year, will add political and policy uncertainty.
"International economic and financial stability is under threat from financial stresses in China, excess capacity in major mineral resource and manufacturing industries, and a tightening of global financial conditions."
Internet job advertisements are the main drivers of job ads, rising 1.1 per cent month on month in January, while newspaper jobs fell 3.2 per cent, and are on a structurally downward trend.
"Overall, we see the job ads series, in conjunction with other leading indicators of labour demand, as consistent with further moderate employment gains in early 2016, enough at least to keep the unemployment rate stable," Mr Hogan added.
Job ads totalled 156,969 in January, with 154,285 posted on the internet, while 2,684 were found in newspapers.
Source: ABC News