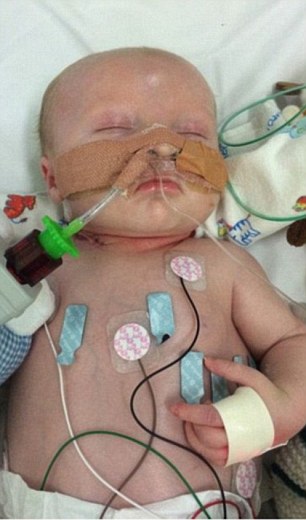 Highly contagious and potentially deadly infection takes hold in babies in Queensland
An outbreak of the parechovirus in Queensland has left 55 newborns sick 
It broke out in Brisbane last year and has since spread through Gold Coast
An infectious disease expert said many GPs do not recognise the disease
The potentially fatal virus is a respiratory and gastrointestinal infection
Comes after two babies almost died in January after contracting the virus
An outbreak of a rare and potentially fatal virus has left 55 newborns sick, with most of the infected babies under three months old.
The respiratory and gastrointestinal infection parechovirus has swept through parts of Queensland, including Brisbane and the Gold Coast, leaving newborns with lethargy, diarrhoea, a temperature and a refusal to eat.
Last month, two infants from Toowoomba were almost killed by the virus and were left fighting for life in intensive care, with one even having her chest cut open and given painful spinal taps.
The virus initially broke out in Brisbane in September, but there have been reported cases on the Gold Coast, and in Toowoomba, Townsville, Mackay and Bundaberg, The Courier Mail reported.
The first reported case of parechovirus was recorded in Australia in December 2013 after 20 babies under 16 weeks were diagnosed in New South Wales, according to The ABC, but the disease was not formally recognised until 2014 when a test was developed.
There is currently no specific treatment for the potentially fatal disease but doctors are trying to work on a vaccine.  
According to infectious disease expert Dr Theo Sloots, many GPs are not yet familiar with the deadly virus and therefore do not immediately connect the symptoms to parechovirus.
'They just think it's an infection. Awareness needs to be raised among GPs,' Dr Sloots said.
'It's in the kids under three months that it causes severe disease and in a considerable number of those, it involves the central nervous system and they go into intensive care.' 
There were 172 reported cases of the contagious virus in Queensland in 2015 and 55 in the first two months of 2016.
In January, baby girl Tinley Beutel was rushed to Brisbane's Lady Cilento Children's Hospital where she was put on respiratory machine and was later diagnosed with parechovirus.
'I thought she was going to die, I didn't think she would make it. Her heart rate was all over the place, her blood pressure was dropping. They had to put her on life support to keep everything stable,' her mother Skye Browne told Daily Mail Australia. 
Doctors initially thought Tinley had meningitis or a twisted bowl because of her symptoms, but she was diagnosed with parechovirus after five days in intensive care.
Baby boy Lincoln Elwell was diagnosed with the virus the same time as Tinley, just a few days after he was born.
'We were told a number of times he might not make it, that he might die,' Lincoln's mother, Zoe Elwell. 
Doctors started doing tests before his heart rate shot up to 240 for six hours.
'His heart started to fail and he couldn't breathe. They had to put him on a machine otherwise he would have died,' Ms Elwell said. 
The parents of both children are now urging others to be on the lookout for symptoms of the virus.
WHAT IS PARECHOVIRUS? 
It is a potentially fatal respiratory and gastrointestinal infection.
Can cause rashes, irritability, fever and diarrhoea - and in severe cases hepatitis or encephalitis.
Virus is spread from person to person by direct contact with nose and throat discharges. 
There is currently no specific treatment but doctors are working on a vaccine.
Children under three are at most risk of developing severe disease. 
'When Tinley got sick she was presenting with windy pains, so I was trying to bring wind up. It wasn't until she became lethargic that I knew something was wrong,' Ms Browne said.
'If I had kept thinking it was wind she probably would have died because her heart rate was so high she would have had a heart attack.
'My advice to parents is that if their baby is at all not themselves - if they have temperatures, not feeding or irritable - I'd go straight to the doctor.' 
Parechovirus is spread from person to person by direct contact with nose and throat discharges, including saliva or nasal mucus, sneezing and coughing, as well as faeces. 
The virus can cause rashes, irritability, fever and diarrhoea - and in severe cases it can cause hepatitis or encephalitis.
Health authorities say good hygiene is the best protection, which includes washing hands with soap and water after going to the toilet, before eating, after wiping noses, and after changing nappies or soiled clothing.  
Source The Daily Mail UK