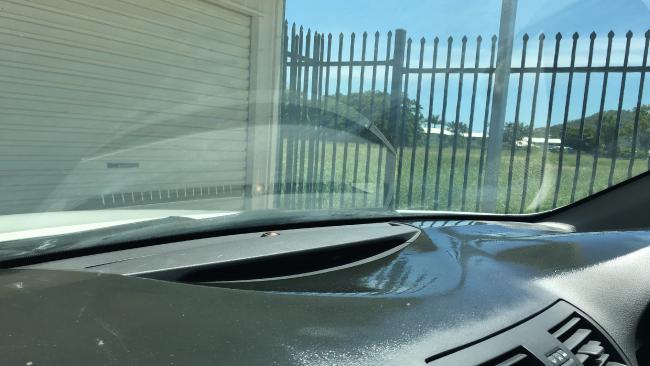 Dashboards melt in extreme heat
It was so hot this week we seem to have a new measure of temperature — dashboard-melting hot.
Car detailer Wayne Phillips took this photo of a Toyota Camry's dashboard that had melted under the extreme heat in Townsville this week.
In his eight years of operating Wayne's Mobile Car Care, Mr Phillips said it was the first time he had seen a car get that hot.
Wayne Phillips from Wayne's Mobile Car Car had a melted dashboard to deal with this week due to the hot weather. Picture: Evan Morgan
"I was in shock, I'd never seen it before.
"I've come across consoles get sticky to touch, but this is the first time I've seen a dash melted and look like it was liquid," he said.
"My young offsider who was cleaning the car at the time, put his finger into and pulled it out, it went grey from the colour of it.
"In my eight years of doing this, I've never seen anything like it and I don't know anyone who has."
Mr Phillips said detailing cars was hot work this time of the year, but seeing a melted dashboard took the cake.
"It was definitely unusual, but the weather this time of year is insane," he said.
"I often tell people that when we get into cars they are incredibly hot and sometimes we have to open all the doors and windows before we can get in and clean them."
Bureau of Meteorology senior forecaster Doug Fraser said the hot weather had been blowing from the inland, increasing temperatures into the mid 30s and even the low 40s across some parts of Queensland.
Brisbane had its hottest night of the year so far this week.
A slight cool change and a few showers today are providing some relief in the southeast. There are possible storms forecast for Brisbane.
In the state's north a cool change is also expected to bring some relief by Saturday, although temperatures are expected to stay in the 30s.
Source: Courier-Mail