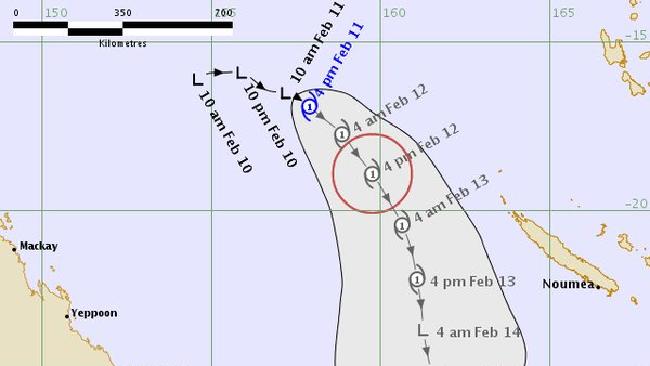 Cyclone Tatiana forms off Queensland coast
Stormy weather and rough seas will hit Queensland's southern beaches as the state's first cyclone of the ­season looms off the coast.
Cyclone Tatiana formed from a tropical low at 5pm yesterday over the Coral Sea, 1000km east of the Queensland coast, around Mackay.
The Bureau of Meteorology said rough swells would be the Sunshine State's only taste of the category one ­system.
"We are expecting it to move slightly southeast over the next couple of days and move off from the coast as a low," forecaster Lauren Pattie said.
"It's not looking like it will have any significant impact on the coastal region."
The bureau will use Twitter to disseminate weather information for the community via @BOM_QLD and #CycloneTatiana.
It is Queensland's first cyclone of the season after a low near the Gulf of Carpentaria around Christmas ­fizzled out before it could obtain enough energy.
 Cyclone Tatiana will mix with a decreasing king tide, which hit the southeast coast on Wednesday.
Sunshine Coast's Ben Corliss described surfing at Moffat Beach as "crazy" as he battled the king tide.
"The conditions were pretty rough and dangerous as the waves were breaking against the rocks. There was a bit of a sweep as well," he said.
An afternoon thunderstorm is expected to roll across the southeast today before a dry weekend.
Source: Courier-Mail