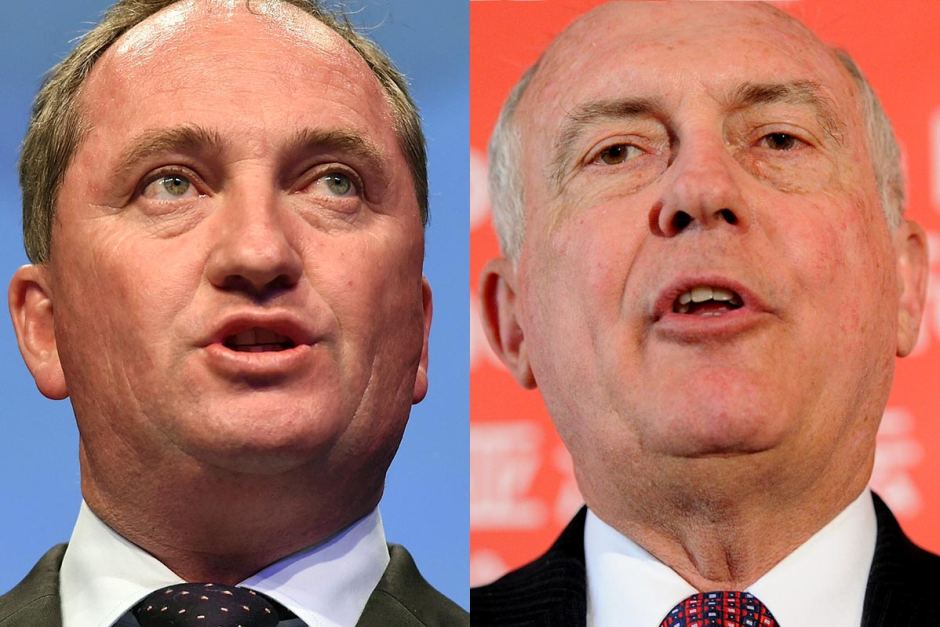 Contenders for Nationals leadership position as 'dog fight for deputy' looms
With Barnaby Joyce the successor to current Nationals leader Warren Truss, the race is on within the party for the deputy position.
One Nationals source told the ABC it could end up being a "dog fight for deputy" when the party meets to elect their new leaders tonight.
Here are the names you need to know:
Darren Chester
The Assistant Minister for Defence made headlines last year when he announced his support for same-sex marriage and a conscience vote on the matter.
At the time, he mused he was the "only Nat in the village" but soon after, two of his Nationals colleagues, Nigel Scullion and Kevin Hogan, also publicly declared their support.
Chester was elected to the southeast Victorian seat of Gippsland at a 2008 by-election.
Some say his support for marriage equality damaged his standing in the party room but he may win votes from Queenslanders who do not want both senior leadership positions to go to NSW members.
Chester has publicly backed Mr Joyce to take on the leadership.
Mark Coulton
Changes following the NSW electoral redistribution will see the Member for Parke's electorate grow to cover almost half the state, including the site of the proposed Shenhua coal mine.
The 58-year-old farmer was the Gwydir Shire mayor before being elected as the local member in 2007, and then re-elected in 2010.
Mr Coulton successfully lobbied Cabinet to provide additional financial support for drought-affected farmers in the far western part of his electorate.
He has two large-scale solar farms in his patch and supports both renewable energy and coal mining.
David Gillespie
After the Cabinet reshuffle last September, Mr Gillespie criticised Prime Minister Malcolm Turnbull for not giving the Nationals an extra seat in the Cabinet.
He argued the Nationals were entitled to an extra spot, given Mr Turnbull had expanded his Cabinet and given both new positions to the Liberals.
Dr Gillespie was elected to the safe seat of Lyne, on the NSW mid north coast, at the 2013 election following independent Rob Oakeshott's retirement.
Prior to entering politics he spent 20 years working as a gastroenterologist.
Luke Hartsuyker
Mr Hartsuyker is a former accountant and one of the party's most senior members. He has held the NSW seat of Cowper since 2001.
Mr Hartsuyker is the Minister for Vocational Education and Skills and served as the assistant minister for employment under former prime minister Tony Abbott.
Like Warren Truss, he tends to keep a low profile.
Last year he was mooted as a possible compromise candidate for deputy: someone who may be acceptable to the Liberals, not rock the boat, and who would avoid a showdown between ambitious Nationals gunning for the leadership role.
Michael McCormack
The National Party frontbencher made headlines early last year when he urged Mr Abbott to spend more time in regional Australia with "normal, everyday people", saying the decision to knight Prince Philip "obviously doesn't pass the pub test".
Mr McCormack won the seat of Riverina in 2010 after a decade-long stint editing the Daily Advertiser newspaper in Wagga.
He was promoted to parliamentary secretary to the Finance Minister in 2013 and later became the Assistant Minister for Infrastructure and Transport.
He is considered a possible challenger for the leadership position and is a strong contender for deputy.
Fiona Nash
Senator Nash began representing NSW in the Senate in 2005.
Since then she has served as assistant health minister and more recently, Minister for Rural Health.
Senator Nash lives on a farm in Young and has worked with state governments to develop a national strategy to tackle the country's ice problem.
She came under scrutiny in 2014 after it was revealed her then-chief of staff held shares in a junk food lobby group owned by his wife.
Senator Nash is considered to have a good chance of being promoted to the Cabinet in a ministerial reshuffle.
Keith Pitt
The member for Hinkler is an underdog in the race for deputy but as the only Queenslander likely to throw his hat in the ring, he could draw a considerable number of votes.
The party's Queensland MPs and senators are concerned about a lack of representation if no-one from their home state wins a leadership position.
Mr Pitt is a vocal advocate of small business and has spoken out strongly against exploitation of foreign farm workers.
Source: ABC News