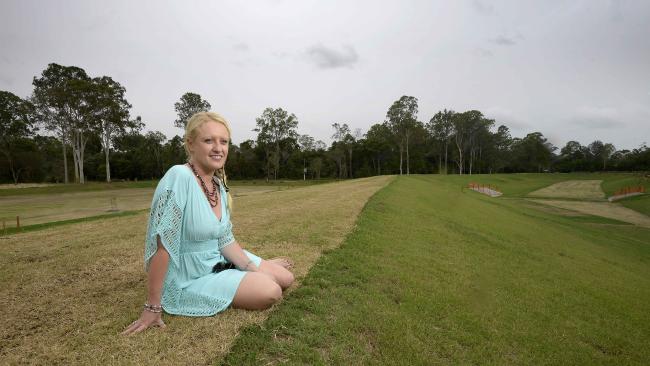 Completed Dale Street flood levy brings relief for Burpengary residents
Rolling  green parkland has replaced the threat of flood as residents and ­members of three levels of government came together to celebrate the official completion of the Burpengary flood levee.
Thirteen properties on Dale St made way for the 740m levee — the $7 million cost funded equally between Moreton Bay Regional Council and state and federal governments.
Kelly Riley, who lives on Dale St with husband Chris and three children, said the result was "fantastic" for her family, with the levee bringing surety to their lives.
"It's looks beautiful. The kids think it's great too," she said.
"Now within time hopefully Dale St won't be looked at as a horrible place and the prices might go up. It is ­really nice to have an option to leave if we want to … not that we're going anywhere because we're happy."
Pamela St resident Larry Hamilton, who also bore the brunt of several floods, said it was great to see the levee come to fruition. He recalled suggestions of a levee being mooted when he joined the Burpengary Progress Association 22 years ago.
The campaign picked up about 10 years ago before the funding was finalised in 2014.
"Once that money was locked in, there was no backing out," he said. "It will settle a lot of people's nerves."
Three levels of government came together to make the Burpengary flood levee a reality.
Longman LNP MP Wyatt Roy, Moreton Bay Regional Council Division 2 councillor Peter Flannery, Mayor Allan Sutherland, and Morayfield ALP MP Mark Ryan joined nearby residents Kelly Riley and Larry Hamilton to plant a tree to mark the occasion.
Chris Whiting, the current Murrumba ALP MP and Darren Grimwade, who campaigned for the project in previous roles, also attended.
Source: Quest News